Drive pass by this place on the highway couples of times few years back when it was under construction. More surprising to me is that a theme park in Ipoh? Movie Animation Park Studios (MAPS) at Ipoh started operating since June 2017.
When it mention Animation park, I certainly do have expectation in it and it is the first in Malaysia. At least it is something different that tons of water park we have in Malaysia.
It was our company trip and visited this place during Early December and if I remember correctly, the ticket was price at RM 50 for full day entrance.
Remember, do not bring in any food and drinks from outside as it will be thrown away at the check points. Some reasons given by the customer is quite funny. This snacks is for my son about 2 years old. (but it looks like at least 800 gram – more like for family)
then have to walk across the bridge to reach the main entrance of the park.
the rain cover area on the left is also funny. Does not connect you till to the main arena. If it rains heavy, you are expected to run across.
The first bad point for the park. I was looking around for Maps of the theme park. I cant find any pockets, standee or souvenir shop that has it and have to walk all the way back to Customer Service to look for one. Then was told I could only take one piece as they have limited quantity. I said I have big group with at least 14 pax. Still insisted to give only one. No comment! Common, you are operating on Peak season with SCHOOL HOLIDAY!
Second bad point. Doesnt have map standee on the park to show or point where you are at the moment. At least we can take a picture on the board and use our phone to navigate it around. At least a barcode to scan a PDF copy or a place to tell us where to get the map digitally. Oh well, Malaysian made things. cant complain much.
So all of us just walk as it goes. Turn left it is to reach this area.
After we finish rides over here, then we walk to another section.
the Smurfs theater. We do not know it has timing and was lucky to join in as the last line.
One of the animation area with interaction.
the Smurfs Partyland is more like for kids area.
Boboiboy Cattus Coaster not ready. Dissapointed.
This ride does not have any guideline. Everyone have to figure out after a while.
Best of all, this ride does not have a name yet.
out for maintenance.
After the other section, we were again lucky to see so many people queuing and was in time to try out these section before close out for next timing which is 2-3 hours later if I am not mistaken. The 4d Adventure Theater is the most impressive by far. Should not miss this part.
Animation and experience are spot on!
this section mention with a small sign 3pm. We have to give it a pass as we have to leave to Ipoh town.
this section is more for kids.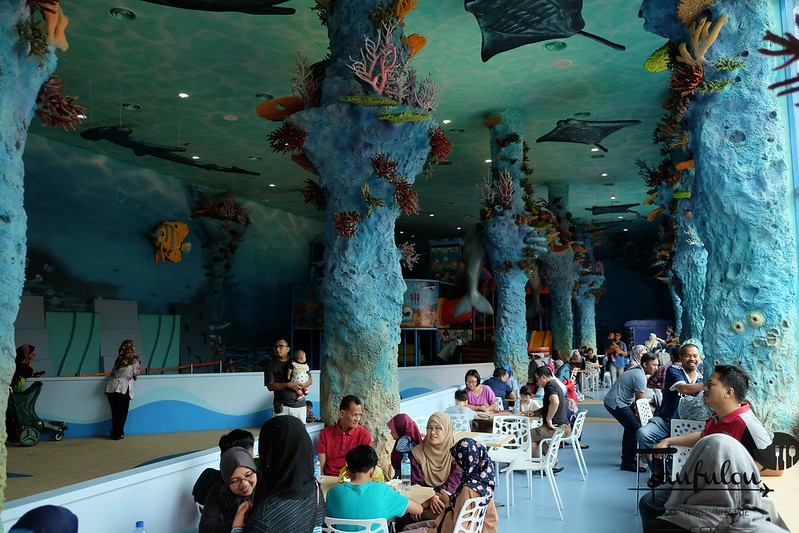 I think this park is meant for local peeps, as it was suppose to be a Dreamworks Animation park. However the deal collapse. Anyway, I felt that the park will have challenging moments ahead.
To take 2 hours journey to Ipoh for this, I would call it a crap!
The park is not yet ready where there are alot of things are amiss, a simple thing which is map
Some food stands are not in operational
No timing written outside (such as show for today/next show) on the TIME OPERATIONAL Theater
Price for both Adults and kids : RM 70 each. Park is rather small and more for kids. With expectation of it is an animation park, I only saw 2 which animation such as The Smurfs and 4D theater. This park is more suitable for kids. Adults, do not expect anything.
To come here will be at your own discretion. As I find that, the likes of Sunway Lagoon, Legoland or Genting Theme Park will easily outshine this.
Location:
MAPS Animation Ipoh
Persiaran Meru Raya 3,
Bandar Meru Raya 3,
30020 Ipoh
Operating Hours:
SUNDAY – FRIDAY : 10:00 am – 6:00 pm
SATURDAY, PUBLIC HOLIDAY & SCHOOL HOLIDAY
10:00 am – 10:00 pm
(WE ARE CLOSED EVERY WEDNESDAY EXCEPT SCHOOL & PUBLIC HOLIDAYS)