There are only a handful of Vietnamese Restaurant in KL. An Viet is one of the shop that I constantly visit whenever I am thinking of my Vietnamese cuisine. I still remember that I visited their The Gardens outlet when they first open its door many years back and I never blog about it over the years.
Menu is not huge, where the most important is my beef noodle.
If you are entering this shop for the first time, you can actually see there is a pot of fresh basil leave on every table. On my first thought, I thought they were for decoration but I am wrong. It is for you to pluck your fresh basil leaves and add into your noodle.
Well, now they have started their #nostraw initiative as all the drinks are serve without straws. Drinks that I usually order are:
SINH TỐ DỪA – Ice Blended coconut @ RM 10.90 & TRÀ CHANH BẠC HÀ – Iced Lime & Mint Tea @ RM 8.90
BÁNH TRÁNG NƯỚNG – Grilled Rice Paper with Minced Pork @ RM 9.90. Something simple to start off with as this dish still quite consistant over the years. Paper thin skin wrap with their marinated mince pork.
This is one of the crowds favourite which you can give it a try too. CANH CHUA NGAO NƯỚC DỪA Clam in Coconut Broth @ RM 14.90. Soup is quite solid in taste and clam is fresh. Love the balance of taste of lemon grass which is not overpowering that can taste the actual broth base.
This is one of my favourite that I like. PHỞ BÒ ĐẶC BIỆT – Vietnamese Beef Noodle Special with Raw Beef, Beef Brisket, Shank, Tripe, Tendon, & Homemade 100% Pure Beef Ball @ RM 23.90
Beef cut is good and let it cook in this hot soup broth. If you like your meat to be slightly more cook, you can always take this beef slice and hide it under the noodle for 2-3 minutes to get it done. Soup is clear, that you can taste the sweetness of the broth and with add in beef parts, it is just perfect!
So now this is the actual usage of the plant. Pluck from the pot of basil leaves then added it into your bowl as much as you like. The little side bowl with clear water is not a drinking water as the purpose serves for you to wash your fresh basil leaves.
Then added it into your bowl of pipping hot beef noodle. Yumz!
BÚN CHẢ : Hanoi Style Grilled Pork with Vermicelli @ RM 18.90 is good for sharing as this is slightly quite unique compare to what we usual have. Grill pork is soft and tender and the soup base for this vermicelli pairs just well.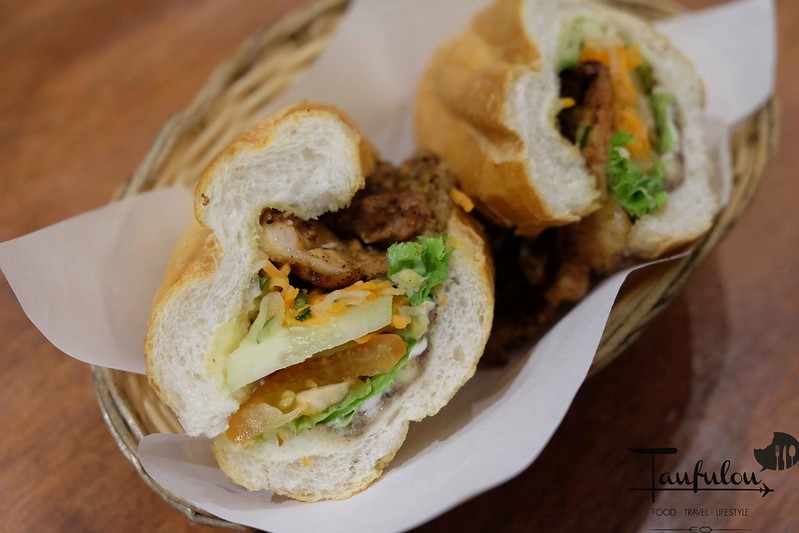 Those that do not want too heavy meal, then you can opt for Banh Mi – Vietnamese Baguette is one of the best seller in the outlet. @ RM 14.90
CHẢ CÁ LÃ VỌNG – Hanoian Style Fish with Turmeric & Dill @
RM 23.90
as this would be my first time trying it. Turns out to be good as the flavour of it quite balance and gives you a herb taste finishing. Cuz of the ingredient that they are using and they have dill on the dish. Fish also did not over cook and softness of the meat that soak on the flavour will certainly be a good pairing for rice.
This is one of my favourite snacks. I find it very interesting and good. XÔI CHIÊN PHỒNG – Deep Fried Sticky Rice Puff  with Green Mango Salad  & Grilled Lemongrass Chicken @ RM 14.90 A dish that is carefully crafted and not easy to be cook into a nice round globe shape yet it must have be like near paper thin that you peal on the crust it cracks easily.
As you crack open the globe snacks, glutinous rice is smack at the center of the base to act as the holder of the sphere. This is how I eat it. Crack the done, and grab some of the glutinous rice then eat it. just perfect. Chewy and slightly crispy. If you eat it with the lemongrass chicken, it will give you another layer of flavour.
To end your meal, can always opt for their  VIET-FFOGATO – Condensed Milk Ice Cream with Vietnamese Coffee @ RM 9.90
Or my personal favorite : CÀ PHÊ TRỨNG – Vietnamese Drip Coffee with Egg @ RM 9.90. Wish that I could have 1 more egg to make it more perfect. Give you just the right creaminess and smoothness while sipping it.
well They also do have something for you to purchase off like their paper rice roll, fish oil and others.
Craving for Vietnamese food, An Viet is one of the place that I turn to.
Location:
An Viet, Sunway Pyramid
LG2.127A, Sunway Pyramid Shopping Mall
No 3, Jalan PJS 11/15
Bandar Sunway, 47500 PJ
Tel: +603 5611 2226
Operating Hours: 10am – 10pm
An Viet, The Gardens
LG203B, The Gardens Mall, Mid Valley City
Lingkaran Syed Putra,
59200 KL
Tel: +603 2201 1181
Operating Hours: 10am – 10pm