Bangkok is one of a famous place that house many markets. There are one in particular that went viral among all my friends is this Artbox. From the picture it certainly look like a cool place to hunt for a night market, that is filled with stacks of container and filled with vendors to sell all their craft items. This round, when we reach,learnt that Artbox at The Em District 2016, Bangkok (it was June when we arrive) is running on its last 2 weeks before the move to a new location by end of the year.
To drop by this place was is an easy access by BTS:
Stop at BTS station Phrom Phong to head to Artbox, head to Exit 6 and walk down the stairs. It will take you a short 2-5 minutes walk to reach Artbox, and it will be on your left. Hard to miss it as you will see people flocking at the main entrance to go thru security check on bags.
We reach here at 6.30pm for our first stop and the place is already pilling up with crowd. AS when we reach the place, all of us reacted the same as this ArtBox impression is very different from what we seen in the web, where it is filled with rows of containers and all properly being lined up. 
Only then found out that, Artbox there are actually a series of it where the first and second quarter is the smaller version. With rows of container is their year end finale where it is bigger and better, that is mention right at the end of this post.
Nicely done up and filled with all fashion, arts and craft vendors and with a huge food section right behind.
They even created a photo corner for you to take pic.
there are 2 sections of live bands, one which is nearby the entrance which is more full scale with music equipment's and the other side which is at food area is more like a unplugged version.
I am impress as they have alot of stalls for caricature drawings.
Photo opp with Thailand classic dancer 
Now we are in Food section zone. There are plenty of hipster food around and also Thai classic street food are located at the last row.
Beer of course is a must for this kind of event. 
Another local beer with special brew, Est.33 Copper Craft Beer by Singha. Rank as no.1 craft beer in Thailand and it is worth to try. Hint of bitterness, yet so smooth and easy to pair with any of the food around. I still think their classic works better for street food. Certainly a pub drink.
We pick to sit here with its nicely stack up crates and also with live band just right in front of us. Another sitting area is right under the tree.
Our view with enjoying great food, music and beers.
Cha Maa is a stall that you would not want to miss with their own mocktail and among the rest we have tried, we think Cha Maa is the outstanding ones.
Another long queue is this fries stall. With generous of ingredients and lots of cheese gravy.
to play with photo opp, then you can buy this Bloody Drink as they literally put the drink into the blood bag and drunk from the tub below.
Another great fried pork, which is a bit similar to our local Nam Yu Pork as this we called it the Thai version, Crispy from all edges and perfect with beer.
This is where I bought pork belly skewers right before they sold out. 
there are quite number of seafood bbq stalls available too.
this stall serve pretty good Thai Street food, from their tomyum, to somtum and Phai Thai.
This stall serve one of the better Mango Sticky rice and we ended up bought another 2 portion.
Never knew Bangkok is so small where we bump into two groups of friends from KL. In KL, we rarely bump into anyone.
Before you leave, you will be greeted by Superman right at the entrance.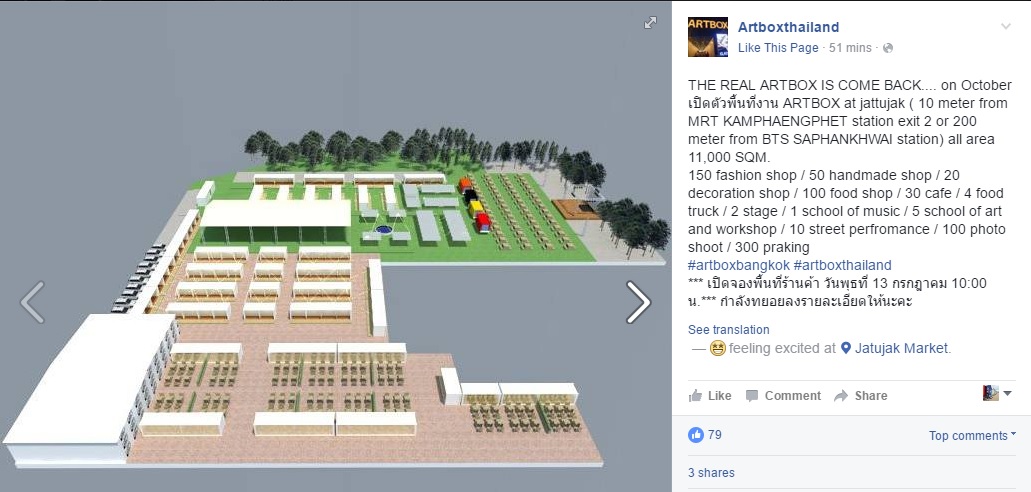 For year end, Artbox is moving to Chatucak Market and follow their FB for more details as temporary they are close and will operate back on October.
Follow them at FB for more info: https://www.facebook.com/Artboxthailand/