Whisky lover, you might not want to miss this as the joys of drinking single malt whisky will bring you another whole new level where Auchentoshan will be taking over W.I.P Bangsar, dubbed "Taste Experiment Bar" that will be taking place for next two weeks from 21st July 2016 onwards. During the two-week period, the Taste Experiment Bar will showcase the many different variations of Auchentoshan whisky and will also see four exclusive cocktail concoctions, created by Auchentoshan's talented brand ambassador Jamey Merkel.
In this pop-up Taste Experiment Bar, whisky lovers will be allow to customize how they experience the signature flavours of Auchentoshan – smooth and gutsy, approachable yet complex and secure enough to be enjoyed on the rocks or mixed into a cocktail on a few stations such as Onde Onde, Ye Old Soda Sour, What The Kuih and others.
Among the four flavours that being created is base on the whisky 4 main profile with, Fruity, Spicy, Citrus and Nutty created by Auchentoshan's talented brand ambassador Jamey Merkel. 
As we arrive early, we get to see all the whisky making and mix some of the stations before the massive crowd pulled in.
Jamey Merkel in action.
With Jamey Merkel
Starting off with the play station, as with all the ingredients being prepared, what you need to do is the girls will teach you on all the mixer and at the end whoola. 
A clever mix, as the mixer topped with fresh passion fruit to bring the sour note and hint of sweetness up. Definitely girls would love it as it is easy to drink.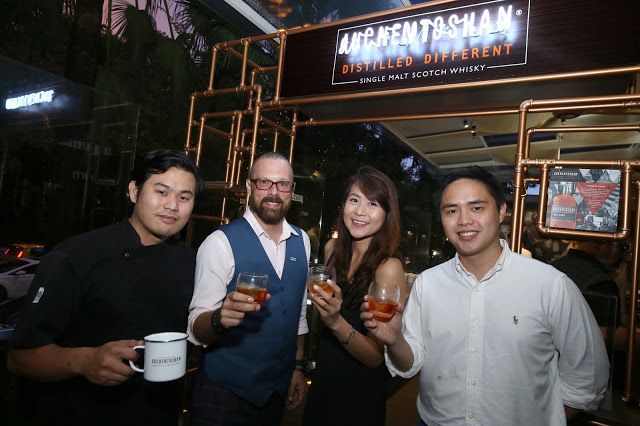 In this 2 weeks, Guest Chef Christopher Yee has also been enlisted to add to the Auchentoshan taste exploration. The trail-blazing food genius will be presenting his creative spin on pairing novel canapes with Auchentoshan, to bring out the delicate flavours of each expression. Urbanites will also be treated to progressive entertainment that is bound to thrill and delight.
"Auchentoshan stands for its artisanal, approachable and alternative take on single malt whisky. This is why we have introduced 'The New Malt Order'. We want to invite people to explore the diverse taste of single malt whisky in an unconventional way. During the bar takeover, whisky lovers will be able to create bespoke drinks that they enjoy while still amplifying the key flavours of Auchentoshan and delivering the essence of our whisky to patrons," said Sally Lim, Marketing Manager, Beam Suntory South East Asia.
Tasting beings with 4 bottles of it and my personal favourite would be Auchentoshan – Three Wood. Love it as it is easy to drink, suits to my own personal palate. Highly recommended.
Here are the rare appearance from both Auntie Lily and Uncle Hong in alcohol event.
'The New Malt Order' bar takeover happens in W.I.P Bangsar from July 21, 2016 to July 30, 2016. An exploration not to be missed, 'The New Malt Order' is geared to indulge the new generation of malt explorers.