Over the years, my interest towards wine had grown. Was expose to many wine brands out there and seriously there are still tons of it. I certainly have heard the brand Chandon before and have yet to try it not till recently by attending the wine pairing session by Chandon with Dan Buckle at Eight Gourmets Gala (EGG).
Upon seating down, we were then being introduce by its first bottle Chandon Brut. Love the bottle packaging as it simply look elegant. Its bubbly and love the taste f
Moments later, we were then usher to a well prepare dining room which was elegantly dressed with simplicity and class, fresh flowers are place in the center to add the mild aroma of it, and it is a arrange seating as all our names are place accordingly. Got excited by looking at the menu as we will be trying 5 different types of Chandon and to pair with some food.
Each of us were given 5 different types of glass.
Chandon Brut (brand champion in sparkling wines), Chandon Rosé (the talking point of sparkling wines), as well as the red and white still wines –  Chardonnay 2013,Pinot Noir 2013 and Shiraz 2012.
As we are all seated, waiter and waitress are all like busy bee as they are pouring, Chandon Brut and Chandon Rosé was immediately served to everyone.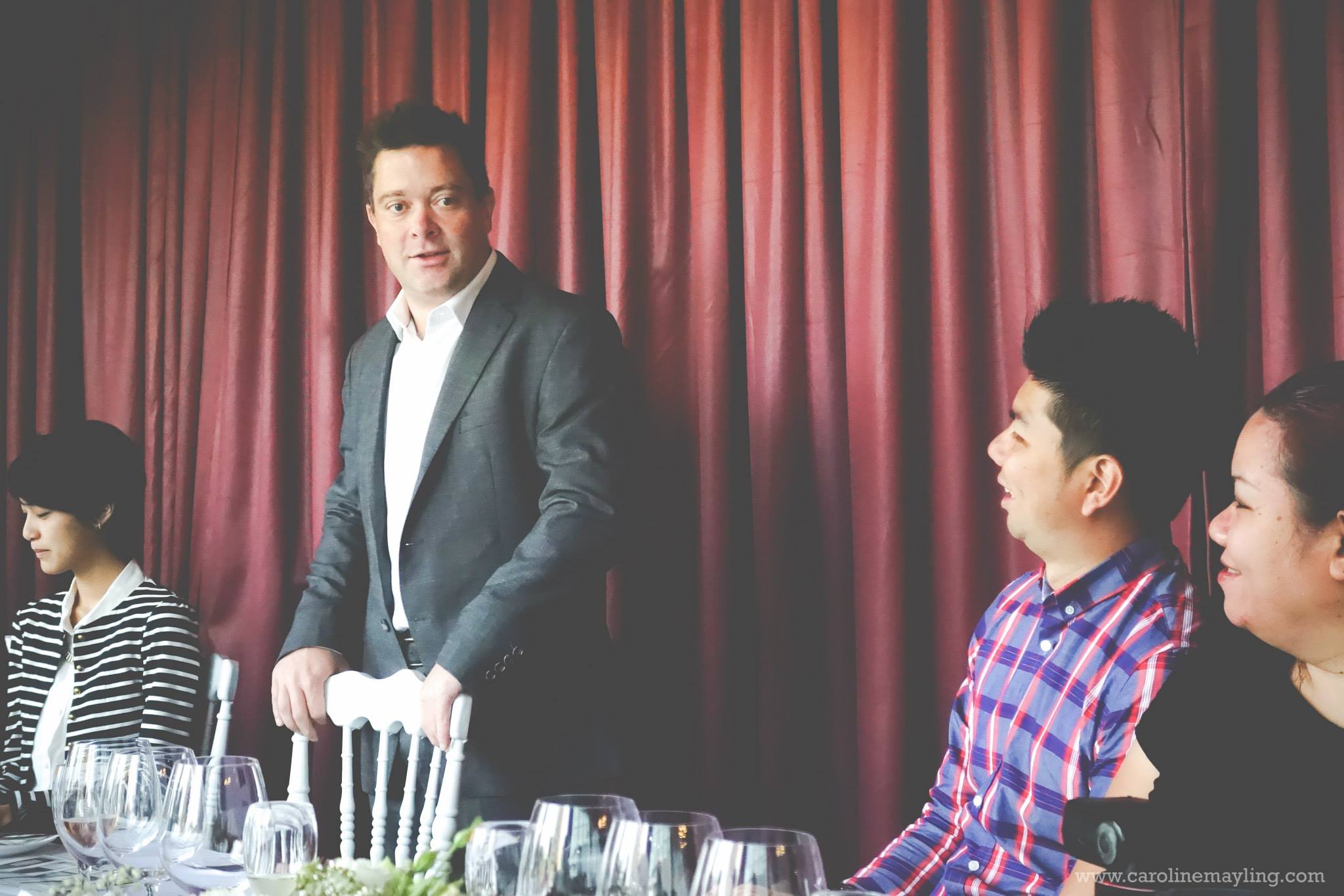 All eyes were sent on Dan Buckle as he is the Senior Winemaker of Chandon. He share with us on the principles of wine tasting, Chandon's heritage, vineyard and wine making process. The most important to me is when he mention that in this wine tasting there is no rules on pairing wine with a dish. There are general guidelines in wine pairing but he encourages everyone to try the various Chandon wines with each dish to see which one we prefer.
Love the taste of oyster and sashimi prawns to pair with Chandon Brut as the bold taste certainly pairs well with this fresh seafood. It gives a little light aromatic after taste of freshness that makes it perfect. As for the Sashimi, Chandon Rose will be a better choice as it bring the fresh aroma yet with mild fruity end that makes the fish absolutely great by itself. If you like something with sweet end, certainly the Rose is the winner among the crowd for this first dish.
See the differences of colour in each glass?
The next course was Smoked Duck Salad .Trying out with Chandon Rose and to my surprise it pairs very well, with its light and sweet crisp left behind. Another combination that works perfectly is with  Domaine Chandon Pinot Noir, a medium bodied red with palate of dark rich plums and vibrant tangy raspberry with abit of spiced oak character that match well with the smokiness of the duck.
For our main – Grilled Salmon with Mint Sauce – was served on the table, the equation in my head just pop out – Fish = white wine = Chardonnay. However, in this tasting, because of salmon skin is slightly salty and love the crunchiness of it, I never thought that Shiraz 2012 works really well. I am not a fan of Shiraz, yet this I am giving it exceptional, as the mild oakiness and hint of spice just goes on well with it.  Just quite disappointing that the salmon is overcooked. Uniquely, the Rose pairs well too.
When I see this Smoked Salami, instantly I know it will be paired with Domaine Chandon Shiraz with its strong body and intense colour of red berries and plum just makes it a great combination.
At the end, Raspberry Crème Brulee is served and rarely I would finish a creme brulee as I am quite particular over it and this serving and this portion is cook to my liking. A gentle cracked on the caramel crust, unfolding luscious smooth baked custard at the bottom, as texture of custard is just rich and smooth.  No doubht that  Chandon Brut and Chandon Rosé will be the ideal choice for it.
Right after this, we are heading to our Cocktail Masterclass. Stay tunned~