Last year during my birthday, I head to one of much anticpated island that been in my list for quite a while. Here you go on my holiday of 5 days 4 nights at Koh Samui Trip 2017.
fact about the island:
Koh Samui, Thailand's second largest island, lies in the Gulf of Thailand off the east coast of the Kra Isthmus. It's known for its palm-fringed beaches, coconut groves and dense, mountainous rainforest, plus luxury resorts and posh spas. The landmark 12m-tall golden Big Buddha statue at Wat Phra Yai Temple is located on a tiny island connected to Ko Samui by a causeway. [ source from Google ]
There are a few mode of transportation to reach this island. Either by Air, train, car, bus and others.
My spending breakdown for this trip estimated  RM 1500:
It was a random birthday trip and here you go on my breakdown of spending too.
Flight Ticket: RM 250 per pax all in without check in luggage (Air Asia)
Expenses : RM 500 (food, drinks and others)
Transportation: Lomprayah transit (Estimated RM 135 – return, speed boat (Nathon Pier) + coach +van to hotel and pickup return)
Scooter Renting: RM 25 – RM 40 per day
Accommodation: RM 500 per pax (budget stay can be less than that if you go with a group of 4 and hotel you staying)
Transportation:
There is no GRAB hailing app available at that time. If there is, there are no driver. Not too sure about now June 2018..
Taking taxi for a short trip around the island is very expensive. A 3-5 KM ride could cost easily RM 40. Therefore do not repeat my mistake by hotel hopping, that cost a bomb in transportation. Stay put in a hotel and rent a bike. Do ask around hotels or shops for renting it. The average rate I read in forum is in between 180 Bhat – 300 bhat. Anything above that is rip off. For foreign tourist like us, we do not need any international drivers license. Drive with care and with helmet too. Upon renting, we need to submit our passport to the renter for save keeping if you are renting outside random shop. Best is to check your hotel do have any official partner for this. At Least it give you some assurance.
Tutt tutt or hop on hop off taxi is depending on your negotiation skills.
Hotels:
As this trip is more like hotel hopping, Our first hotel for the night is at:
Lanai Samui Luxury Resort @ RM 321 per night
Vana Belle a Luxury Collection Resort @ price unknown cuz my friend got special rate and it was my birthday treat for the trip. (average on Agoda is RM 750 – RM 1300)
Budget:
1) Pleon Chaweng Hotel – RM 200 per night
2) Verticolour Hotel @ rm 120 per night (as for final night and early depature of 6am so we decided just stay cheap)
To begin with, you can choose 2 different option with direct flight from KL to Koh Samui island with other Airlines, or with Air Asia to stop at Surat Thani.
1) Option 1: KL to Koh Samui Direct flight (estimated RM 600 – RM 1500) depending on airline and season.
2) Option 2 KL to Surat Thani via Air Asia (cheaper alternative buttttt)
If you choose option 2 like me, you are going to enjoy the transit experience to reach an island with duration as below:
KL –> Surat Thani : 1 hour 40 minutes
Surat Thani –> : Take double deck bus to pier: 1.15 hours
Surat Thani Pier (Speed boat) –>  Koh Samui Island: 2 hours
Island transit to hotel : 45 minutes – 1 hour (as there are a few locations drop off with other travelers)
Total time spend on transportation estimated : 6 hours (if you are from Malaysia)
Here are some pictures for you to take note:
After landed from the airport and pass immigration: upon gate exit you will see a few counters for your last minute purchase of island transit. there are a few counters there.
For us that bought Lomprayah ticket via online – we need a validation and swap it to ticket, you need to walk till the end of the hall (where Doi Chaang cafe is on your left) .
After counter validation, you will be given ribbon as part of these driver to recognise which island you are going. Each colour represent an island as last destination. Then all groups are being seperated and do ask all these bus driver where to wait for your selected buses.
The bus is quite spacious too and remember to put on seat belt as part of their safety requirement.
After finish on your bus ride, then you need to walk to the left of this building till you see this counter, as to get another validation of your online purchase to change it to your speedboat ticket.
After that, you have to walk all the way where you see huge amount of human are gathered. There is where the speedboat embarking is. (do not embark the wrong boat too as each boat are too different island)
It will be abit chaotic here as there are no system. Do ask the boat person to confirm on your end destination. (they might sound rude but I guess everyone is trying to ask them alot of funny questions)
Upon arriving at the dock in Koh samui, there are alot of drivers will be waiting and holding a board. Do look for them as each van transit are to different area of the island. It is already pre assign upon purchase via online and any last minute changes is subject to the van availability and capacity if you do not let them know on your changes.
HOWEVER I just read that they now have new pier which is only 30 minutes away from the airport (for LOMPRAYAH only). As the above might not be applicable. 
How I plan my trip: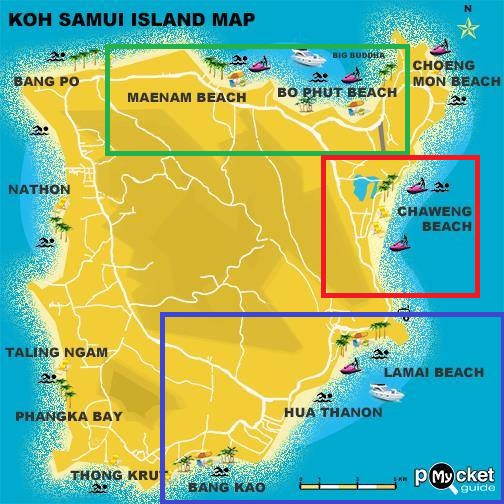 Day 1: 
Woo Bar –> Fisherman Village –> Supper –> Hotel
Upon all these, after settling into the island and knowing it was a long transit, so I book a better hotel to begin with. Lanna Samui Luxury Resort is my choice as it sits in between the area that I am heading. Not too far from Fisherman village nor heading to town. My first 2 days is to explore the northern side of the island.
Here are my review for Lanna Samui Luxury Resort. A great resort to chill that is hidden inside a village.
Rent a scooter to move around which is very cheap. Head to W as my first destination as I totally miss out the sunset. Was suppose to be there by 5pm but transit did not go smooth as expected. Weather is not on our side too as it was a rocky sea ride that took the toll additional 35 minutes. Then it was raining on that evening, so everything was much slower. Reach W about 8pm.
Location:
Woo Bar at W Hotel, Koh Samui
4/1 Moo 1 Tambol Maenam Surat Thani
Tambol Maenam Koh Samui,
TH-84 84330, Thailand
Nothing fancy over here as it is another night market that sells t-Shirts, seafood, jewellery and many other items that you can find in a typical night market. Good enough to kill sometime.
AS we could not find any street food in the night market. Upon walking out while about to hail for a cab and saw this stall. Selling Thailand version of Koey Teow Soup, Wan Tan mee and get excited all over it. Ordered this as below and turns out to be pretty darn good!
Opening Hours: 17:00 – 23:00
Location:
Boput Fisherman Village
Bophut Beach Road, Bophut
By far this store is one of the best and realise that they are actually a chain. They have like about 10 mini hawker stores operating around the island mostly main streets. Scout them if you can. Things to order, their local wan tan mee, clear soup tomyum and…
Their specialty is the fermented Key Teow Soup, or actually can add in any type of noodle that you like. That is very classic street food taste but not many like it because of its unique taste. Wan tan mee was the best dish for the night. Simple, classic and good!
on the way back hotel, we bought beers and chill at hotel.
Day 2:
Wake up, had some awesome breakfast at the hotel, check out and check into Pleon Chaweng Hotel.
Then lunch, head off to this place which is opposite China Town for this Koh samui Specialty dish. Introduce by my Thai friend that there are 2 places that I should not miss. One is this place.
Hidden off from the main road and it is hard to find them as I have asked many locals around and they are not too sure. As about to gave up and one final approach to the locals and this vendor know. Just pointed right opposite. hahah. We are lucky.
ordered their signature just to try it off as we were stuff with breakfast.
Location:
China Town Koh samui
(the road opposite the main arch structure)
Then went over to Boput fisherman village again to chill out at that area. We hit on 1 hour foot refloxogy, then head to this cafe to chill.
After that, walk around and found out this beach bar at the end of the street turns out to be one of the best chill out place, with bean bags on the beach and a zone which I do not mind to spend most of my time here.
Dinner, we dine at this highly recommended place by my Thai friend. Sabeinglae Restaurant at Bophut. they have 2 outlet. Another one is at the southern part of the island. Special recommended dish is their baby squid, and also their cooking method is still quite authentic.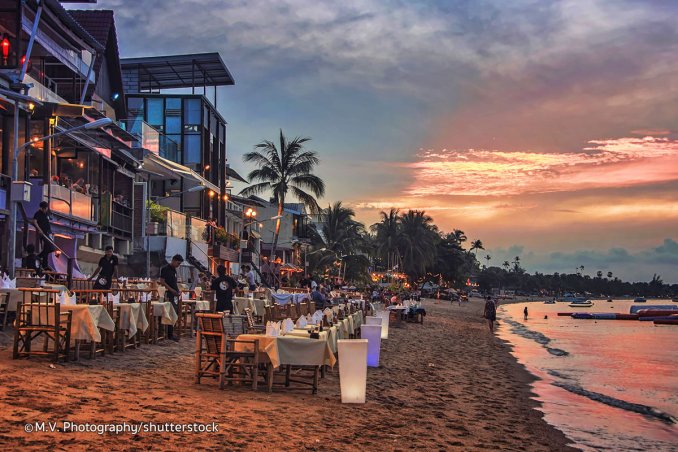 image credit to m.v photography
Location:
Sabeinglae Restaurant
Boput Fisherman Village
Tel: 0 7743 0095
After this, head off to the main city district at Chaweng Beach area to check out Central Festival Mall.
After that, went to check out Koh Samui first Craft Beer Brewery known as Bees Knees Brewpub. Everything is brew in hose and price are pretty decent.
Location;
83/3 Moo 2, Bophut,
Koh Samui, Surat Thani 84320, Thailand
operating hours: 3pm – 1am
tel: +66 85 537 2498
Head of to one of the top recommended night life – The Ark Bar which is well know for party at the beach. with some fire performances here and there, crowd here just enjoy their time with awesome music. It is very crowded on weekend as we are here both nights.
Location:
Ark Bar
Amphoe Ko Samui, Chang Wat Surat Thani 84320, Thailand
Operating Hours:
7AM – 1Am
Tel: +66 77 961 333
Day 3:
check out and move to another hotel – Vana Belle Luxury Collection(click here) for my birthday treat. Did not move out most of the time as enjoying the facilities here.
at night we head out for dinner around the area and found out this Seafood bbq just right opposite the hotel and thought it is a good bargain. 429 Bhat with seafood range as below:
Plenty of seafood for your hungry tummy.
Even fresh crab that  keep replenishing.
My table is so full that my tummy cant event fit.
NO complain at all.
Location:
Vana Belle Koh Samui
(If you are coming out from Vana Belle Resort, turn right. The restaurant is about 5 minutes walk on your left)
After dinner, stroll around the beach and randomly found another new bar area that just establish about 3 months only. The Beach Bar Samui.
Location:
The Beach Bar Samui
(Next to Shereton Hotel)
Day 4:
Move back up to City center – final night at Verticolour Hotel. Cheap and high good ratings. Then rent a bike to move around again. This round is to explore the southern side of the island.
Stop by at Lad Koh view Point
One of the locals introduce this beach which is the famous beach among foreigners for day time is located here.
location: Silver Beach Resort, (there is a small public road that head to the beach area)
Not long after that, found that the rain is coming and quickly head back up to city center to check out Chaweng Beach (which is just about 5 minutes from Ark Bar) While raining, enjoying my beer and local snacks with a foot massage is not to0 bad.
Among many beach this is one of my favourite. Clear sea water and alot of mini beach bar hut. Too bad only discover this on the last day.
At night we head off for full body masasage for 2 hours only at 600 bhat. Then randomly choose to eat at the night market and the food is really bad. .  Chaweng walking street  market is quite disappointing as I felt like like a tourist trap food here are below average and more expensive.
Checking out the party scene opposite the Ark Bar. turns out to be more like Gogo bar and went further into the back there are more decent pubs which is like a huge food court of Pub. Then decided to hit back into Ark Bar to drink and party before flying off.
What I mean is this food court bar. A combination of at least 10 operators.
Day 5:
6am check out and head back to transit route.
Beach:
I was totally disappointed on the beach as I check out on google. It was a combination of other nearer island that gives you the illusion that they have crystal clear sea water. I was wrong. Others were grainy, and some are dirty.
If you want that in Koh Samui, this is the only beach I manage to find with such look is at Chaweng Beach. Not too sure about on the western side of the island.
Tourist Attraction:
Mid hill spot
Grandma
Bophut Fisherman village
Hin Ta Hin Yai – Grandma granpa rock that looks like genitals
Night market
Beach party
Top places to party in Koh samui
Thailand being Thailand, as no matter which part you are in, there is always a great party scene. It is the same goes  to Koh Samui.
Here is the top 3 party scene in Koh samui
Ark Bar is one one of the best. Do not miss it out.
On Street Bar which is 5 minnutes walk away from Ark Bar. A combination of Agogo street nearby and also many other smaller pub that you are able to hop around
Bar Solo is just the entrance of the street that gives you a whole stretch. (food court bar)
Out from Chaweng
If you need more chill places, then head back to bophuit, look for Coco Tams. Laid back and chill
If you have the budget then:
W HOtel – Woo bar is pretty well know for their signature W with awesome instagramble shot. Do reach before sunset. Weekdays there is nothing much going on. If it is too boring for you here then head to Bophut area which is just not too far.