Over the years, one of a very consistent restaurant that my family and I visited is Dragon-i Restaurant. My dad loves to come here whenever comes to any celebration or special occasions. Well, I would consider one of best Chinese Restaurant in KL to visit as their service and quality rarely disappoints. Now, with their latest refurbishment in 1 Utama, they have re-branded to known as Dragon-i Peking Duck Restaurant.
Dragon-i Peking Duck stands apart from the Dragon-i outlets from its setting, with the idea of fine-dining, to the premium menu introducing a variety of traditional, authentic Shanghainese and Huaiyang delicacies. This premium menu mainly features with Huaiyang cuisines, which is known for its light taste, with fresh ingredients and heat control to present these exquisite and delicate cuisines.
The interior here is of course towards more classy.
Love their miniture decor of terracotta warrior.
Open space kitchen also allows customers to enjoy the style of making Peking Duck in both ovens and brick fire roasting oven place.
To make great Peking duck, Dragon-i had flown in 2 experienced chefs from Beijing to supervise the process of roasting and ensure the product quality. As the preparation of roasting takes about an hour on controlled, over fruit-tree wood.
The quality serve is by ensuring each duck is roasted to crisp perfection with bronze, crispy skin yet tender, succulent meat. Its juicy meat is infused with a smoky floral aroma which allows our us to savor its rich flavor in the most authentic way.
Chef will be standing right in front of this oven by swinging in around at the tip of fire to get it roasted.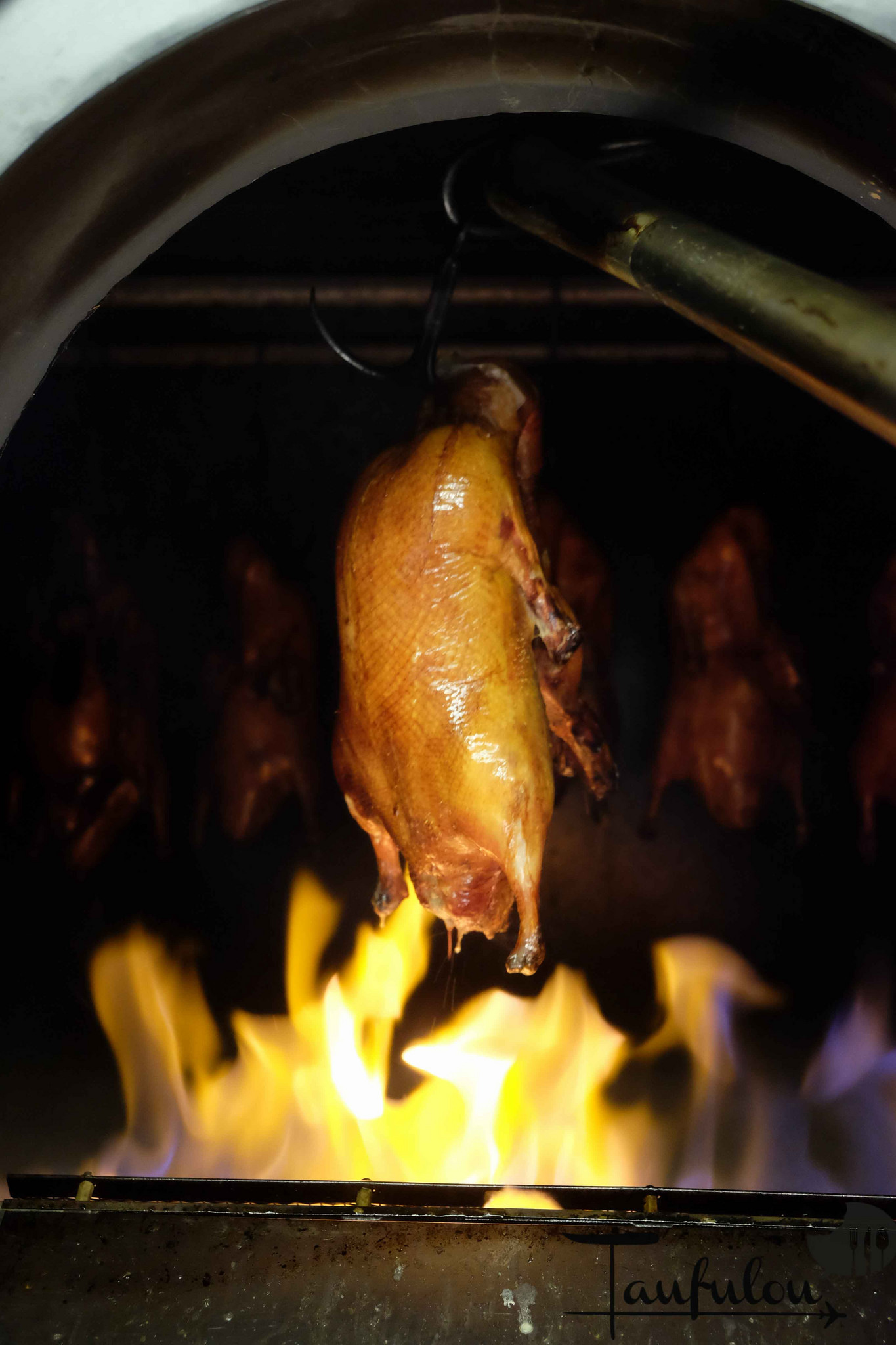 There are two choices of meal to choose from: "Peking Duck Two-course meal" (Peking Duck + Duck Bone Soup with Soft Beancurd) and "Peking Duck Three-course meal" (Peking Duck + Duck Bone Soup with Soft Beancurd + Choose from "Deep-fried Duck's Bone with Salt and Pepper", "Stir-fried Duck's Bone in Hunan Style", "Braised Rice Noodle with Black Truffle and Shredded Duck Meat" or "Stir-fried Shredded Duck Meat with Vegetarian Shark's Fin").
As the Peking duck is being cut and serve, we can hear the cracking sound of the golden brown skin and it smells so good.
Peking Duck Three Courses (Whole) @ RM 158
First Course: Peking Duck
Second Course: Duck Bone Soup with Soft Beancurd
Third Course: Stir-fried Duck Bone's in Hunan Style
Duck Bone Soup with Soft Beancurd is quite similiar to our local dish that I often call it "Kiam Chai Ark [in hokkien]" (salted veggie duck soup). The taste is quite different from those that I usually have as was told this is the china version of it and taste less strong in salted veggie, quite clear in taste and not too bad.
Double-boiled Hydrangea Beancurd, Sea Cucumber and Matsutake @ RM 38. Some of you do see the knife skill of cutting tofu like coral in the sea and here you go. They do have one here. A soup that looks simple and is punch with flavour.
Sautéed Mixed Vegetables @ RM 25
Signature Appetizer Platter (Five Varieties) @ RM 83
Braised Pork Belly served with Steamed Buns @ RM 88
In a restaurant that serve China food, Sautéed Diced Chicken with Dried Flower Chili in Szechuan Style is one of the dish that I would definitely order.  RM 38. This version is slightly milder yet you can taste on the fragrance of peppercorn and chili yet it is not overpowering. Chicken is fried to perfection. Do eat it while it is hot to enjoy the nice fragrant of it.
If you are here for some simple dim sum and their Steamed Egg Yolk Custard Charcoal Bun @ RM 16 is a must order. The egg custard just ooze out and the gravy is quite solid.
A dish that I never miss when I am here is their Shanghainese Steamed Meat Dumplings @ RM 12
Location:
Dragon-i Peking Duck Restaurant
Lot S313A, 2nd Floor New Wing,
Lebuh Bandar Utama, Bandar Utama,
47800 Petaling Jaya, Selangor.
Contact No.: 03-7725 8822
operating Hours: 10 am – 10pm