Hidden in between this luxury neighbourhood and industrial zone, there is one coffee which is well known by many. Pulp by Papa Palheta at Bangsar had made a big bang to many coffee craze out there with its mini industrial look and its nice built up.
Starting off as a lone ranger in the zone, yet the only little outpost building which is design and paint in a way to capture your attention, hence making them one of the hottest spot to visit as an instagrammer when the place first open its door.  You can see that your feed is constantly being bombarded by those OOTD shots with its wordings behind. Very clever marketing and branding awareness.
For coffee lovers, or newbie that keen to try what is single origin – this section then provide you with some testers and they have key words profile description on the coffee on the pack as when you try it and you like it, they have their own blend and some are ready for you to take away.
Seating area is very limited. .
Coffee here are quite different as if you love robust flavours, then this would be one of the place to be.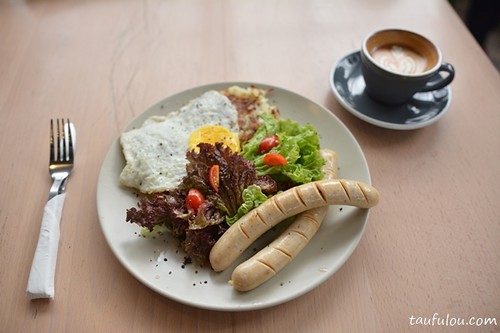 Breakfast here is not encourage with the pricing they have on it. . .
So there you go for a robust coffee place and also a few single origins for you to hunt for.
*Pork-Free
-= KA CHING =-
Food rating 7/10 , do come try yourself! -Stamped-
-WARNING –This is based on my individual taste. Try it at your own risk-
Location:
Pulp By Papa Palheta
29-01, Jalan Riong, Bangsar, KL.
tel: 03-2201-3650
Operation hours:
Tuesday – Friday, 9am – 7pm.
Weekends 9am – 10pm