Lammeeya had been establish as one of a household name in KL many years back or even when I was in college time. When comes to KL version Lam Mee, I thought of them. Now, they have new menu that rolling out and also introducing some new home-cook food style with super food of healthy vegetable that they specifically pick from a farm. Curry Fish head being one of the latest signature.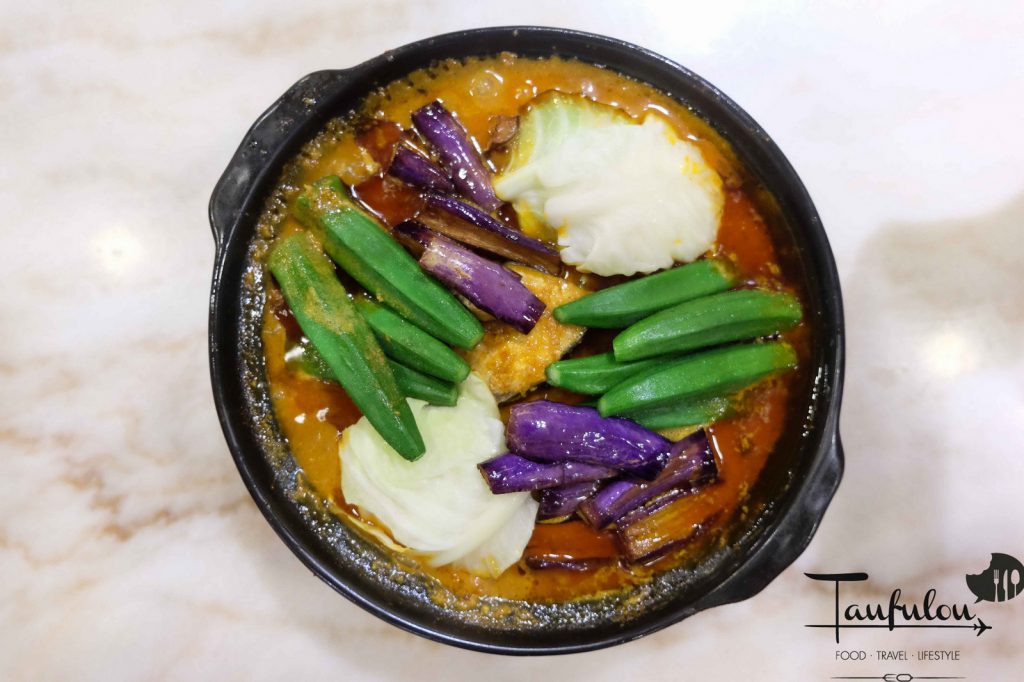 Curry Fish Head @ RM 98 (medium). A pot of pippin hot clay pot fish head is indeed a pot that you will be looking at during rainy season. A mixture of spices that pump into the claypot that give you the taste of a mixture of nyonya and Penang style combine. Slightly thick in gravy yet hint of spices at the after taste. Curry is not spicy as they are more on the fragrant side.
Best of all, can convert into mini steamboat after you are done. So it is kinda 2 in 1 pot. (scroll down for more)
Very fresh fish that they are using and easily about 6 pieces.
This is their super food Bio-Dynamic Vegetable – Pea Sprout with Egg @ RM 16.90. A simple dish that pack with flavour to my liking. Vegetable certainly taste different from what we always have. Texture and taste is also diff itself. – recommended
Even their Four Season Bean with Chinese Olive does not taste bitter like what I usually have. Freshness of it and a little hint of sweetness at the end is quite unique. @ RM 15.90
Ginger Wine Omelette is one of my fvourite simple dish from this outlet. A dish that I would always order.
Onion Oil Tofu is steam, drench with their own special soy sauce and best of all with pork lard. Yumz!
When we are done with the curry, we convert it into a mini steamboat by ordering extra steamboat ingredient. They add in their house signature broth and do be aware that the soup is unlimited refill, however not the Curry in the claypot. The more you add, the flavour will be diluted.
House special mix pork ball.
Crispy fried fish skin
E-noodle
Hong Kong style bean curd
We are all quite satisfied after with curry fish head and with mini steamboat to end the meal.
Location:
Lameeya at The School by Jaya One
100-G21, The School Jaya One,
72A, Jalan Universiti, 46200
Petaling Jaya, Selangor
Tel: 03-7496 0670
Operating Hours: 11am – 9.30pm