#throwback2015
Last year is another amazing year of traveling for me where got selected to join Malaysian & Singaporean & influencers for a food escape on a US fast food chain in Dubai.  It was a short trip where everything was cramp up and we took the opportunity to explore the ultramodern architecture on available time break that we have. Here you go on my top 15 places to visit in Dubai that I cover it within 1 and half day with private tour and driver.
First time flying of with Emirates, totally impress with the level of services, inflight entertainment, food and beverage that they have.
Enjoying my inflight entertainment with great selection of alcohol available for all passengers. Food were decent. 
Dubai International Airport is seriously huge that also make it one of the  main transit hub for Europe flights.  
Got pick up by the driver and head to our hotel. If we complain federal is jam, imagine this 6 lane highway is the same as KL,federal highway during peak hours.
For the trip, we stayed in Sheraton Dubai Mall of the Emirates Hotel
Love my breakfast view as there is one section that facing Jumeirah Beach where you can see both famous landmark.
Breakfast is filled with variety of their local food fare and some are made fresh.
Attack alot of their juices and yogurt.
View from my room . .
While waiting for others to get ready, grab myself a glass at the bar and enjoying the view. 
For some activities & facilities, you can head to their roof top where the clubhouse, spa, jacuzzi, gym is located up there and it is free for us to use.
We were given this prepaid card during our stay in Dubai.
Let start to explore the city.
Exploring Downtown Dubai City
imagesource from: alldubai.ae
Where we are staying is also known as one of the main malls to visit in Dubai where world biggest indoor ski is in this mall (Ski Dubai). This mall is located about 10-15 minutes drive away from the city and other public transportation you can access is Dubai Metro.
In the city itself, you would not miss this place where house the world tallest building and also world largest shopping mall by total area.
A country where camel is one of their mode of transportation, camel milk is also another produce from it and Camel milk ice cream is rather interesting that you should not miss out. Hunt for this kiosk – Majlis Dubai.
4. Dubai Music Fountain
In that mall, another main attractions is Dubai Music Fountain .
Dubai Fountain schedule:
Afternoon Shows
Daily except Friday: 1pm & 1:30pm
Friday: 1:30pm & 2pm
Evening Shows
Daily: 6pm to 11pm (Every 30 Minutes)
5. Souk Al Bahar
Then walk across to Souk Al Bahar for local good shopping follow by head towards the main entrance to the main road, you will ride on their free Trolly.
7. Riding Dubai Trolly
Might not be in San Fransisco but this trolley tram in bright red with aesthetic gold pin-strips and green trim colours! This is the world's first hydrogen-powered trolley system that will cover 7 km across the entire breadth of 500 acres of Downtown Dubai when it is completed. Meanwhile, the first phase of Dubai Trolley covers 1km around the Dubai Mall.
Fee: FOC
Sit on the upper deck to enjoy the great city view, where as for last year only 4 tram stops.
8.
Visit World Tallest Building – Burj Khalifa 
One of the place that every travellers will check in if they are in Dubai. This marvelous architecture is the tallest artificial building in the world, standing high at 828 meters (2,716.5 feet); holding the World Record of tallest man made building in the world
Tickets can be book in advance thru this website (click here) where there are certain slots that have to buy in advance such as the early morning slots and their best selling ticket is SunSet view at the peak which is 4.30pm to 6.30pm slot – this I would advise to buy in advance to avoid disappointment. Upon booking thru website, there is a online ticket collection kiosk at the main entrance.
We got ourselves on the earliest slot for the day where there are other activities line up for us after this.
Observatory deck is available at Level 124 and Level 148. We went up to Level 124 (At The Top) and we are allowed to visit the Level 125 as well. We booked the ticket online before travelling, so we got our ticket at the price of AED 130 per pax. Climbing up to Level 148 (At The Top Sky) will be charged at a higher rate. 
View up here is amazing where I am impress how the city is being transform from a huge desert and filled with all mega structures around.
Where you climb a level up to Level 125 which is much quieter.
With Malaysian Influencers – Bloggers Vkeong, Christine & Ivy along with Instagramers – @lesliepng & @jadechin  
Bought one of Lego Architecture – Burj Khalifa back too.
Dubai Aquarium and Underwater zoo is also known as one of the largest suspended aquariums in the world. There are few packages available and we went for their Researcher Package (AED 100) which includes Aquarium Tunnel, Underwater Zoo, Back of house tour and Underwater Observatory. 
Great white shark . . and discovery tour comes with a guide that bring you thru how the whole place is being manage and fishes are fed. It feels like you are in behind the scene of Jacky Chan Movie – Police Story 4: First Strike.
One of the main highlight is this King Crocodile which being capture at Australia then being transferred here for well beings as he weight 750kgs with measurement of 5 metres in length. This Aquarium is huge where it is part of Dubai Mall. Impressive!!!
Opening hours:
Mon-Fri: 10am to 10pm,
Sat-Sun: 10am to midnight
10. Head out to Adventure Desert Safari (Sand Dune, Camel Riding, Sand Boarding)
If you got time in Dubai, then head out from the city and set adventure for Desert Safari. Time is very tight for us as we could not follow most of the tour package being offered, we managed to get a private tour to suits our timing where we engage North Tours. It costs us AED 1300 for this tour and it is shared among the 5 of us (with pick up and drop off). Corresponding with them might be a bit challenge so do be patient and do everything black in white in email.
The trip is 90 minutes out from the city to reach this huge massive desert place and be sure the car have a bar to allow you to hold on the top if you are going for Sand Dune.  (where the car will be rushing thru the landscape of hilly sand, making sharp turn and instant drop from top to bottom of the mini hills, that is when you need to grip onto the bar)
First stop for toilet break that will allow you to ride on this (additional cost where it is not include in the package).
Our first Adventure is Sand Dune that will ride you thru for at least 15-20 minutes (advise do not come with full stomach as you might want to vomit or feel nausea after it)
After the ride, we are given 20 minutes for picture taking around the area. Then follow by 30 minutes ride to this campside where it feels so Star Wars.
Sand boarding at your own comfort and climbing to the hill top is a challenge. They did not provide you any other equipment where just only a board for you. So we just sit and ride down from the top. 
Last is camel riding. 
11. Visit Burj Al-Arab & Jumeirah Beach
A hotel that house many re-owned eateries, where  a photo with this world's tallest hotel, standing high at 321metres on its own artificial island on Dubai coastline not to be miss.
Jumeirah Beach: White sandy beach that stretch along with coast south of the city's historic district to the junction with The Palm Jumeirah and terminates between the southern ends of Jumeirah Beach Residence.
12. Dubai Marina Yacht Club & Jumeirah Lake Towers
13. Explore  Old Town Dubai – Bur Dubai and Diera (Souks – City of Gold/ Gold Market, Perfume, Utensils and Spice Market)
If Dubai city is too modern for you, then you can head 20 minutes out from the city where you will reach Dubai Old Town to see the early stages of Dubai. 
Dubai City of Gold have a meaning on it where this gold souk is one of the largest gold retail markets in the world. Located in Deira, just about 5 mins walk from old souk marine station; this is the market filled with glittering shinny accessories and decors, made of 18, 21, 22 and 24 carat gold. Aside from gold, the souk also trades in precious metals such as platinum, diamonds, and silver, hence the reason for the name.
There is a big board of market rate for you to refer. 
Besides gold, it is also a place for souvenir where you can show your skills set of bargaining power from this  moment onwards.
Walk further down, you will reach Spice Souk where the air is filled with the mix of aroma of herbs and spices
You can easily see sacks of colourful spices, rose petals, dried fruits in front of the shops.
Located closed to Deira, Deira Old Souk Abra Station and Gold Souk
We were there at the wrong hours where most of them are closed, is only because that's a timeline we got to visit this place. 
Opening hours:
Saturday to Thursday: 10am to 10pm (but closed between 1pm and 4pm);
Friday: 4pm to 10pm 
Next to Spice Market is Utensils Market.
14. Ride water taxis -Abra at only AED 1 on the Dubai Creek
A ride that most tourist would do is this water taxi at this busy river. 
Water is quite clear as you can see those on the edge of the dock.
15. Dubai Mosque & Museum
The main museum in Dubai, UAE; housed within the beautifully restored Al Fahidi Fort, also the oldest existing building in Dubai. If only we had more time for this, we will definitely enter into the museum and soak up with the rich history and culture heritage of Dubai
Opening hours:
Saturday to Thursday: 8.30am to 8.30pm
Friday: 2pm to 8.30pm
Food:
The main reason for this trip is to pay a visit for these American chain food.
Sounds pretty interesting and with the word Texas certainly gives you a certain expectation to lift up. Outside do look pretty decent and upon walking into the outlet, you will be transporting into another dimension with their nice cowboy town interior look and it would be certainly better if some of the staff wear cowboy/cowgirl outfit.
One of a better burger joint I have come across.
3. Le Pain Quotidien (PQ) 
Is founded in Brussels nearly 25 years ago, the Le Pain Quotidien brand of bakery-restaurants has spread its wing across the globe, from New York to London, Mexico City to Mumbai to Moscow, Istanbul to Tokyo to Sydney.
P.F Chang's is one of the most successful Chinese Bistro brand in Middle East. Making its wave into the market four years back had since quite become a place for most Dubai folks to patron on this.
Constantly this outlet is pack with customers from it open its door till late night. It is also a very well known brand in the States as this is an American owned restaurant with Chinese Cuisine menu that I would say its a fusion Chinese Menu.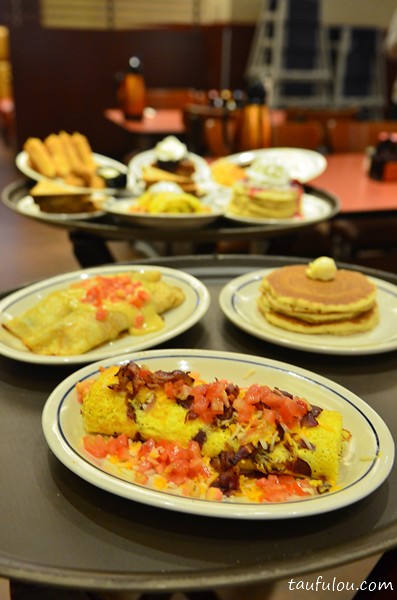 Initially stand for International House of Pancake which is quite a well known joint from California,US. Being quite establish in the market since 1958, they have gain its popularity among many local diners since its penetration into the UAE market since 3 years ago.
6. Walk through the front doors of The Cheesecake Factory and you will know you are in for something special.The Cheesecake Factory menu boasts more than 200 selections made fresh from scratch daily in each restaurant including Small Plates & Snacks, appetizers, pastas, fish, steaks, salads, sandwiches and pizzas, also their private dining room is overlooking on Dubai Ski.
It would be a land of heaven for me if they Open in Malaysia as they have more than 50 legendary cheesecakes and specialty desserts
It was a fun trip where got to know alot of Singaporean influencers. miss you guys.
Others that I have miss and do explore if you got the time.
Abu Dhabi:
1) Ferrari World
2) Sheikh Zayed Grand Mosque
3) Emirates Palace
4) Yas Marina Circuit
5) Manarat al Saadiyat