Penang is indeed my hometown. Little did I know that there is actually a hidden gem inside Fort Cornwallis, a fort that being build during Captain Francis Light era. It is not only a heritage fort but also house a restaurant, Kota Dine & Coffee – when Francis meets rempah. This is what happen when Western meet East. A casual dining that focus on modern Nyonya Cuisine with a slight twist.
To access into the restaurant, first you have to pay an entry fee like any other tourist whom is visiting the place.For adult you are paying RM 10 for adult and RM 5 for children whereby the fee is only with MyKad. (The fee is redeemable back upon minimum spending of RM 30, which can be easily achieved)
the British colonial guy is here to stop you.
Honestly, this is my first time entering this heritage place. Quite a cool place, just a set back where if this place could turn into a weekend night market with pop up food store, arts and music would certainly be ideal .
Quite a nostalgic area.
As you enter the restaurant, it is nicely preserve and maintain with beautiful heritage ambiance that gives you plenty of room for instagram shot.
Best of all, it is a HALAL restaurant.
For their new signature drink, it is quite interesting and personal favourite is  Singature.
Sunrise
: Orange, Lime, Mint, Mango, Sprite, 
Signature
: Lemongrass,Lime,Min, Chili, Sprite, 
Sunset:
Watermelon, Mint, Lime, Sprite, refreshing and thirst quencher after you explore the fort. As for the snacks,
Prawn Bean Curd Fritters
@
RM 15
– prawn, beancurd, cucumber, garden greens. A simple dish that fried to perfection and the dipping sauce lifted the taste. Great starter to kick start off with.
On this tray platter, it is actually all their signature snacks from all the ala cart menu. They created this combination to allow diners to enjoy all their signature item under one tray. Jumbo Platter is served with – Pai Tee Cup, Chicken Lolipop, Samosa (Spiced Dumpling), Kerabu @ RM 38.
Love this presentation, as it resembles classic nyonya and however there is a simple twist and different interpretation for this dish. This is LAKSA – Kota Version. Filled with Kesom, Cucumber, Pineapple, Mint, Macakerel, Galangal and Rice Papper @ RM 25. I call this a deconstructed Laksa and it is clerverly done. Laksa noodle is roll with vineamese popiah skin and another half of the noodle is being dip fried. Shrimp paste is replace with rojak sauce top with pomegranate to give it slight sourish fruity end on top of the fresh cucumber and pineapple. Love the soup base as it is pack with flavours and a classic combination taste of chinese and malay laksa.
A recommended dish to start off with too.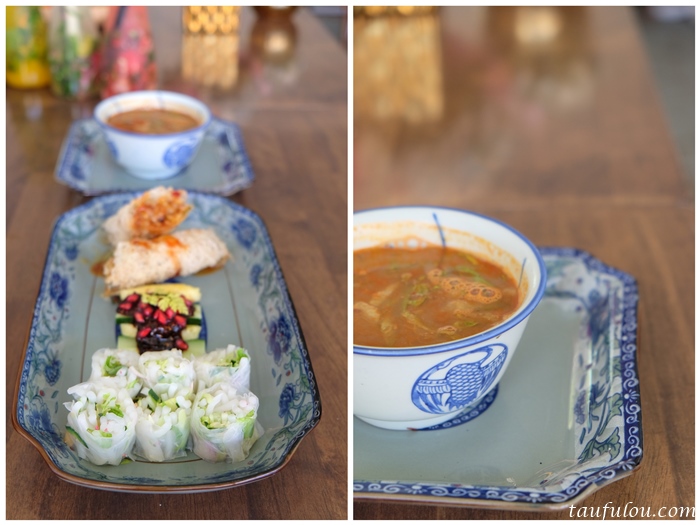 This is a new version of stay. Satay @ RM 25
Satay is not always about skwers as the chef cleverly play it to make it like a sushi roll and top all the gravy on the top. Chicken is tender and the peanut sauce on the top is good enough to balance out the aroma of the seasoning.
Next on the line is this cleverly platted where it is colourful and pop out from the classic plate. the signature nyonya rice plated with the blue pea flower rice sandwiched in the middle with the rendang chicken on the top and otak otak at the below. Each bite is burst with flavour which is not overly powered yet I can finish the whole plate by myself.
Kota Chili Crab @ RM 25. Oriental Chili crab sandwich with soft shell crab, crab meat, tomato, chilli, mantou, ebiko, cucumber papardelle.
Love their presentation of dessert, that is filled with creativity. Presenting you Nasi Lemak Cake , yup not burger but cake.@ RM 19. Cakes that is build with layers from inspiration of our traditional breakfast. Quite interesting taste profile and it is a love hate relationship. Either you like it or you dont. The cake is nearly there just thought that they might be missing 1 or 2 more element or ingredient.
Among the desserts, this is my personal favourite. Classic with a simple twist where The Nyonya Tiramisu is the Italian dessert with its ingredient of mascarpone cheese switched with local kopi-o (black coffee), coconut milk and coconut flakes cooked with palm sugar. It is airy, and pack with flavour. The Kopi o is NOT for you to pour it in but for you to sip after you have a spoonful of tiramisu.
This is not creme brulee 3 ways but 3 different types of Creme Brulee.  Pandan Crème Brulee, Egg Cream Brulee and the Gula Melaka Crème Brulee with local twist. To end with this last dessert, I also order one of their signature pour coffee. The coffe profile is rather mild and direct that I think pairs well with this dessert.
Honestly, I am proud that eatery in Penang is moving a notch up, as Penang is not only an island is famous for street food but a good flair in food is what we need to grow the F&B industry to another new level. For such Penang Nyonya cuisine with a modern touch. This is indeed will be one of my top recommendation restaurant if you are looking for some exploitative taste whereby the price is very reasonable. Hope they maintain the quality over the years.
*HALAL
Location:
Kota When Francis Meets Rempah
Fort Cornwallis Fort Cornwallis,
Jalan Tun Syed Shed Barakbah,
10200, Georgetown Penang
Operating Hours: Daily : 10.30am – 10.30pm Daily
Tel: 04-2519420