Speakseasy bar in KL is indeed no longer a strange scene as I always wonder when will Penang have a cool Speakseasy bar. It was till last long weekend my friend brought me to new joint known as Magazine 63 Speakseasy Bar that located just 1 minute walk from 1st Avenue.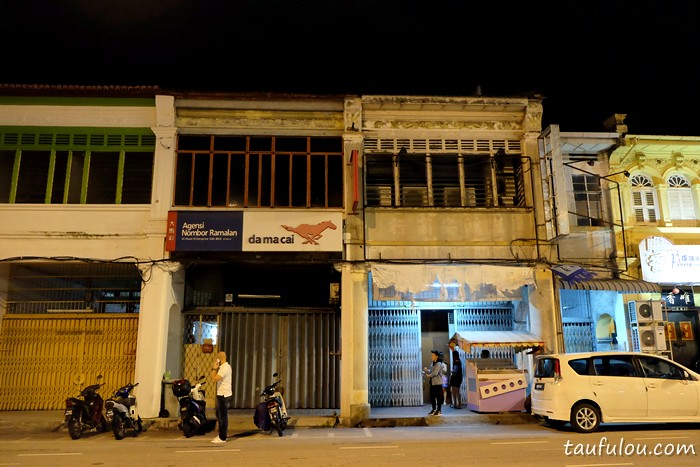 It looks dead from the outside as the secret signage is Da Ma Cai, where next to it is this shop where they do have a classic lok lok stall is the shop that you would want to go in. It looks like a dead end.
Trick 1. head to your far left and push a huge piece of wooden door. You will reach stage 2.
This is stage 2 as it does look like a dead end and sound proof wall is amazing. You can hear much music or noise till you push a another huge wooden door right next to the red sticker and you will reach to a new dimension, it is like entering into a Wong Fei Hong era.
This can be like little Suzie Wong in Penang however this is the new Magazine 63 Speakseasy bar that currently is the main spot for many working adults to hang out.
In this kind of bar, you would expeect a good selection of cocktail. HOLD your horses as this is Penang. Mixologist here is still not at KL level as the offerings in here is much more pretty straight forward.
Alcohol, beer, gin, vodka and other bottle whisky.
Definately in love with the whole ambiance.
We tried our luck to ask the bar tender to make us some cocktail. Decent though as this is pretty sweet. More like a modern pina colada.
for me, I go for my classic whisky mix.
This is what hidden right inside the building. Have fun exploring and locating. As it hit after mid night, it is more like a bar with house music.
plus point is that opposite this bar, you do have a huge open space carpark that charge RM 3 per entry and it is highly advisable to book your table on weekend.
Location:
Magazine 63 Bar
63, Jalan Magazine,
George Town, 10300 George Town,
Pulau Pinang, Malaysia
Opening hours: 6pm – 3am