What is the difference between Sukiyaki and Shabu Shabu? Well, Mo-mo Paradise is one of the latest hotpot, steamboat that combine both Sukiyaki and Shabu shabu under one roof located inside level 5, Lot 10. Known as J's Gate dining.
Dubbed as the traditional Japanese hotpot with a modern twist, Mo-Mo-Paradise is founded in 1993 at Shinjuku Kabukicho, Tokyo. Today, Mo-Mo-Paradise is found in 9 countries with the one in Malaysia as the latest to enjoy the ultimate Shabu-Shabu and Sukiyaki experience, with special focus on a wide variety of fresh, high-quality ingredients, accompanied by warm hospitality, all at a reasonable price.
We Malaysians do love our buffet spread and Mo-mo paradise is offering us just that. This all you can eat at RM 68++ indeed a good bargain as we get to enjoy very nice cut of both beef and pork cuts along with free flow at Vegetable Market. With only 100minutes time frame, it is just nice for us to fill our tummy up.
Lots of greens that you can hit on and at least the vegetable here looks fresh.
Any dressing that you like can pick up at the sides including condiments like garlic, chili cuts, olive oil and others.
with additional RM 4.50 you get free flow of fizzy drinks and coffee.
When you are seated down, there will be a lady coming out to explain the whole process and difference of both soup. There will be 2 sauces – ponzu and gomadare (sesame) sauce serve and it is to pair with the original light broth shabu shabu.
Sukiyaki will be on the bolder side of flavour that gives you strong sweet saltiness flavour.
Another 2 more sauce pot is actually filled with sukiyaki sauce and water. If you felt that the soup is diluted, then add in sukiyaki sauce. If the sauce is too strong, then add in water.
There are 3 different types of pork cuts, which for a start you can opt for all of it and see which cut of pork you like and continue attacking there.
As first timer, we definately opt for both soup base as to try it out. For Sukiyaki which the base is bold in flavour, we are told to add some fresh slice of onion to tone down the flavor before dipping your meat in.
Just look at the meat cut. thin slice and fresh. Beef slices are flown in from Australia.
cooking beef slices is very quick. depending on your style of eating and it is best about 8-10 seconds.
As for Shabu Shabu, the way to eat it is only with meat and clear soup. to start that off first before adding anything in it, to get the best taste of fresh meat and the soup base.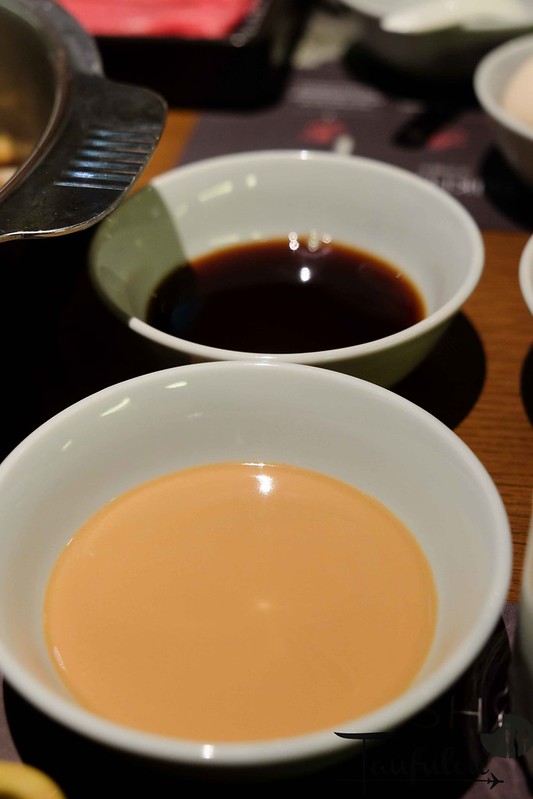 One of my favourite sauce – sesame. Rarely you come across silky smooth sesame sauce and the taste if it is light, fragrant but enough to create a bomb of flavour in your mouth. Just loving it. I mix it with garlic, and chili.
Eating Sukiyaki Pot:
Add onions or vegetable then let is shimmer till when it is soft, then only add in the meat of your choice.
Beat a raw egg in a small bowl as dipping sauce. Dip the cooked meat and vegetable in the beaten egg mixture and enjoy every bite of it.
you can order additonal Ramen or Udon to fill your tummy up
And Finally ice Cream as a closure. order from the staff.
Other soup which is available :  Karamiso broth which is spicy miso based for those who love spicy profile.
Price: RM68++ for single pot and RM76++ for mix pot, per person for 100 minutes
Location:
Mo-mo Paradise
P1-10/11 Level 4,
Lot 10 Shopping Center,
Jalan Sultan Ismail, 50250 Kuala Lumpur.
Tel: +603-21103588 for reservations.
Operation Hours: Mon-Sun 11:00 am – 11:00 pm