One thing I got to know that One City is one of the latest talk in town among many Subang/USJ folks as this new mall is cerntainly one of its kind that offer roof top dining and also house a few interesting F&B in this area. One of the cafe I have tried is Bread & Brew which is two doors away from here.
Charlie Chaplin which is a famous public figure back in the 18th century whereby he is the main Mr.Bean at that time. With his funny act that made him an icon during that time and that brings this Charlie Chaplin International License Cafe to Malaysia.
 As you walk upon the main entrance, you will be greeted by his giant portrait with his signature pose!
 Whole ambiance is design back to the 18th century with classic flowery titles, black painted book rack, black umbrella lighted hanging on the ceiling . . .
 all of his pictures .. .
 classic camera that you need an umbrella as a flash gun light. . . . . The whole ambiance, decor that make it pretty vintage and match back to that era also whole dining ambiance is comfy and perfect place for gathering. .
 Menu is pretty direct whereby is not much to choose from and price is slightly high but this is what you are paying for such a concept cafe. . .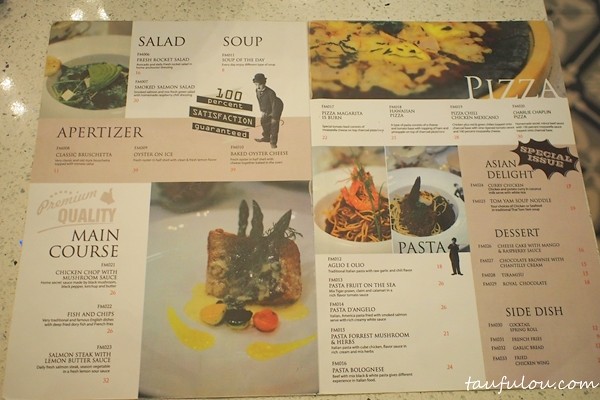 As we saw the coffee range, we try to be adventurous and turns out to be quite a unique experience for both drink. Coffee Champagne @ RM 12 as the taste is just does not blend at all and its too sweet to my liking.
Behind it is Black Forest Ice Mocha also turns out to be quite disastrous in taste. Maybe some of you might like it. @ RM 16
Since the 2 drinks did gave us a set back to even try further but what tempted us is that the amount of dessert ordered during that hour is alot. Then decided to try the safest pick which is Cheezecake Mango @ RM 16.
This turns out to be good. Cheese is moist enough, soft and aromatic with well balance cheeze taste which is not overpowering and the base of it is just right, not too thick yet pair well. Worth recommending!
Location:
Charlie Chaplin Cafe Malaysia
One City, Jalan USJ 25/1,
47650 Subang Jaya,
Selangor Darul Ehsan.
Contact: 03 – 51150196
Facebook: https://www.facebook.com/charliechaplinmalaysia