This will be my fourth time to Bali that makes it the first travel blog after all these while. Well, for instagrammer this is certainly an ideal island for you to shot alot of amazing shots and moments. Here is my first trip of the year and latest findings of how I spend my 5 Days 4 Night at Bali 2018. I will create another blog post for my past 3 trips which makes it a compilation of backlog.
Airlines to Bali: Took AirAsia over for flight at 12.20pm that reach Bali 3.30pm : RM 450 per pax (cheapest I found was RM 329 including20kg lugguage) which I could not make it.
There are 2 tip to share with you upon arriving at Bali Airport.
Tip no 1. (for Malaysians Only)
Change your currency at Bali Airport or only at license money changer at Bali island – those with big shop frontage (I nearly got cheated once before few years back as I change RM 1000 and the guy calculated in front of you then put in envelope and reach back hotel half was gone. Went back and screw the money changer guy and he gave me back remaining balance with agent fee. )
Here is the exchange rate base on 25th FEB 2018.
Mid Valley – RM 1 = 3500 rupiah  (hence changes in Malaysia is better)
Bali Airport : RM 1 = 3300 rupiah
Tip no. 2:
Need not worry on transportation as : UBER, GRAB and GO JEK is available in both android and IOS. Just download that for convenient and also reliable rate. There are oth
With development of ride hailing app, most of the driver could not pick you right in front of the airport as those driver are consider illegal.
If you are taking UBER, GRAB or GO Jet, here are the guide for the pick up location:
1. Head to domestic airport which is just 3 minutes walk from the international airport entrance.
2. Borrow FREE Data from Aiport to order your ride, text your driver and tell them what you wear and meet them at Alphamart.
3. Upon walking out the exit after the duty free, turn left at the exit and walk directly across which you will come by a car rental pick up spot, thru a nice Balinese gate, then cross a small road and just walk another 30 steps you will see Alfa mart. There is where most of the ride hailing pick up area.
4. If you feel uncomfortable or do not want either above, you can opt for private arrangement services for airport pick up
Or map as below for your reference.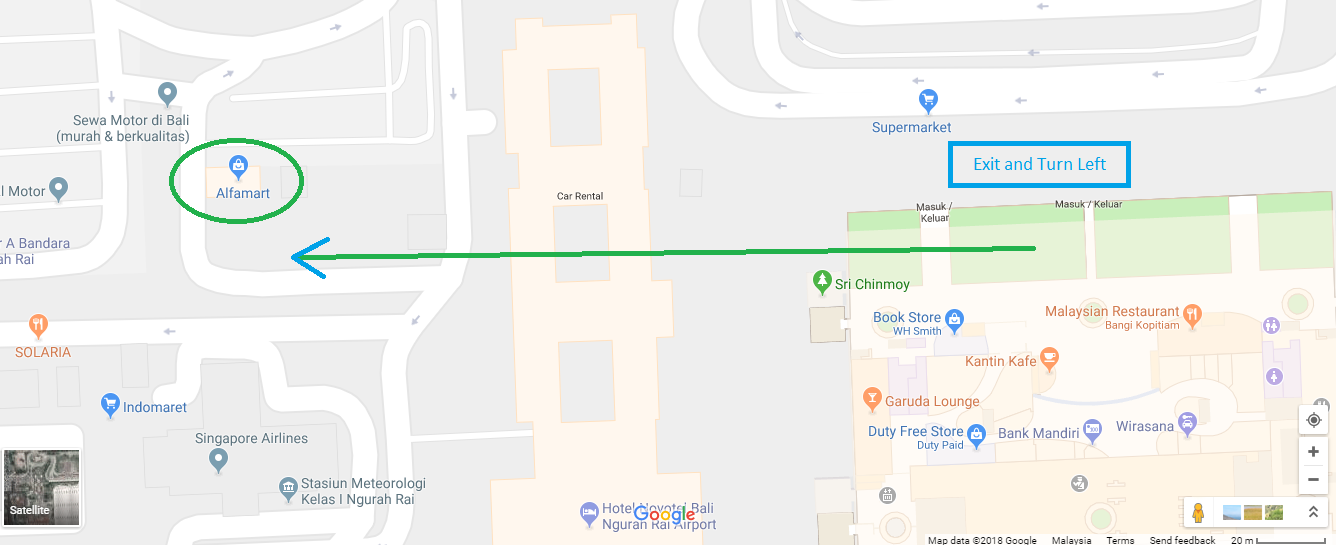 If you do plan to take taxi to your hotel or town, do only take BLUEBIRD taxi as they are more safe and reliable, even in any part of Indonesia. Other taxi brand is at your own risk. If you decided to take any driver right at the entrance of the airport, most of the driver will ask for 150,000 rupiah to Seminyak and 100,000 to Kuta which is very expensive. The rate to bargain if you are taking taxi for are as below:
1) Seminyak 80,000 – 100,000 still reasonable
2) Kuta 50,000 – 80,000 still reasonable.
Ride hailing :
GRAB : Airport to my hotel The Aswana, Seminyak 58,000 rupiah. That is nearly 50% savings from what the airport taxi guys are asking for.
** do note that if you are ordering ride hailing, do not say that you have hail GRAB, UBER or GO JEK. Just say that your friend is picking you up.
To move around Bali, there are 2 options.
Option 1. If you are in group of 4 pax and above, then you got no choice but to go with a driver. a driver and car rental comes about 400,000 rupiah (rate which is 3 years ago and if I remember correctly – a car sort of Avanza.) and petrol to be top up upon returning which is an 8 hours rental. To include meal for your driver is at your own generosity which we did buy both meals for my driver which he was highly recommended by my Jakarta friend. Indeed awesome guy.
Option 2: rent a bike and move around which is more convenient if you are in smaller group. Rental is about 60,000 -90,000 depending which area you are in. Kuta the most expensive at 90,000 which you can bargain to 80,000. Averagely is around 70,000 rupiah per day. (or to pre-arrange for quite reasonable price)
Day 1
Arrive at the airport and head to our hotel to check in. Accommodation in Bali for first 2 nights to stay cheap. The Aswana at Seminyak was chosen because of its strategic location and highlight no.1 was also the budget pricing. Upon my booking 2 weeks before the trip, the room was only @ rm 95 per night. Certainly no complain on this, as the room is big enough and service for such budget accommodation is top notch.
I miss out my sunset because of luggage got stuck.
Stop no. 1 My favorite hang out spot : Ku de Ta at Seminyak
No booking available as you can just walk in. Great vibe and view. while waiting to meet my friend for dinner at 9pm.
Jl. Kayu Aya No.9, Seminyak, Kuta, Kabupaten Badung, Bali, Indonesia
Hours:
Open today · 8AM–2AM
Phone: +62 361 736969
Dinner: Pondok Tempo Doeloe
Met a friend for dinner and was recommended to this Javanese Restaurant which is their favourite. 3 items to order.
Ayam Bakar, Sop and Kambing Bakar
location:
Pondok Tempo Doeloe
Jalan Sunset Road, Kuta
Tel: (0361) 919-6868
Close at 10.30pm
Late Chill out Spot: Potato Head Club
Then went back to freshen up and head to Potato Head Club which is one of the cool place that you should be in according to many. As there are some minimum spending of 500,000 rupiah if you were to occupied the beach side sofa seats. I still prefer Ku de ta.
Location:
Jalan Petitenget No.51B,
Kerobokan Kelod, Kuta Utara,
Kabupaten Badung, Bali 80361, Indonesia
Tel: +62 361 4737979
Operation hours: Daily: 10 am – 2am
Day 2
11am :
Breakfast at so called most famous Cafe in Seminyak – Sisterfield (Australian Cafe).
Jalan Kayu Cendana
No. 7, Seminyak, Kuta,
Kerobokan Kelod, Kuta Utara,
, Kabupaten Badung,
Bali 80361, Indonesia
Hours:
Open today · 7AM–10PM
Phone: +62 811-3860-507
12pm Head over to Ubud (1 hour bike ride) Car maybe 1.30 – 2 hours depending on traffic:
1.30pm :Tegenungan Waterfall
Jl. Raya Tegenungan, Kemenuh, Ubud 80581, Indonesia
2.30 pm :
Famous TEgallalang Paddy Field
Jalan Tegallalang, Tegallalang,
Kabupaten Gianyar, Bali 80561, Indonesia
Initially was to head over to Tirta Temple but decided to drop it.
4pm : take a break at Coffee Studio Seniman
One of a well known cafe that roast their own beans and single origin lover, one of a stop cafe for you.
Jalan Sriwedari No. 5,
Banjar Taman Kelod,
Ubud, Kabupaten Gianyar,
Bali 80561, Indonesia
Raining and got stuck at the cafe.
Other places you can visit if you have the time or compressing places to visit in ubud:
–
– Tirta Empu Temple
– Ubud market
– Tegenungan Waterfall
– Goa lawah temple
– Gua Gajah Temple
– Tibuma waterfall (better view of waterfall but further)
– Ubud Bali Swing (expensive as cost USD 30 per ride)
– Bendungan Tukad – water temple
– Gunung Kawi Temple
– Pura taman saraswati temple
6.30pm:
As I have went before to Bebek Tepi Sawah, so this round tried Bebek Bengil.
Bebek Bengil
Padang Tegal, Jl. Hanoman, Ubud,
Kabupaten Gianyar, Bali 80571, Indonesia
Close 10pm
Went back to rest and freshen up.
10pm : Early supper at my favourite pork ribs place:
Hog Wild (previously known as Naughty Nuri and apparently the other owner came out by themself hence there are 2 brand)
I still prefer Hog Wild over Naughty Nuri as (I find Naughty Nuri Malaysia is much better)
11.30pm:
Char Char Bar & Grill
Famous Staircase bar at Seminyak. It felt like human aquarium.
12.00 am
Check out speakeasy bar:
40 Thieves which is well known to many locals and expats. not very touristy yet. Well known for their customization of drinks from mixologist however the bill could get very expensive.
Head to second bar:
Baker Street Social which is just 4 shops away from 40 Theives.
Day 3
9am : Breakfast at this relaxing place:
Nook Cafe that over look paddy field
Jalan Umalas 1, Gang Nook No. 1,
Kuta Utara, Bali
Operation Hours: 8am – 9pm
Went to second location for another breakfast as this new Modern Japanese inspired dining do look very interesting. Just 3 months in operation.
Musubi at Canggu
Jl. Pantai Berawa No.6/7,
Tibubeneng, Kuta Utara,
Kabupaten Badung, Bali 80361
+62 812 365 0799
12pm : Check out hotel and to check in another Bali Seminyak hotel:
New Pondok Sara Villas by Platinum Management (click here)
Reasonably price of a villa which is slightly old but still good. RM 310 per night that comes with a private pool at Seminyak area. What can you ask for? Breakfast serve right at the villa and order upon check in.
3pm :
late lunch. Naughty Nuri – Do not like it as Prefer Hog Wild better in terms of seasoning. The only win for naughty Nuri is their portion is slightly bigger than Hog wild.
3.30pm : Head up north to Tanah Lot
4pm : Stop by this new store which is sort of like Bali Burger & Lobster Street version.
Lobvster turns out to be good which is above my expectation. For such pricing, it is worth to stop by if you are heading to Tanah Lot or heading to Canggu.
Location:
35A Pantai Batu Bolong Street
Operation hours: EVERYDAY | 24 HOURS (which is damm awesome!)
+62 812 3779 9492
My new found love of hang out spot in Bali : Canggu Beach
6pm: Hang Out at La Brisa – Canggu to enjoy sunset as it was full then just hang out at those seaside operator . Loving it. Beer of course is cheaper. Bali beer Beats Bintang beer. (base on my own preference) or Stalker 1945 is damm good too.
Their awesome sunset and the colour is pretty amazing.
9pm: Was hungry and was quite late. Saw this shop when passing by and thought it might be good.
Le Moulin turns out to be good!. A great random discovery that is famous for their French Crepe.
Location:
Jalan Raya Pengosekan Ubud No.108,
Ubud, Gianyar, Kabupaten Gianyar,
Bali 80571, Indonesia
Operating Hours: Daily: 8.30am – 10.30pm
Tel : +62 812-3676-0012
11.30 pm: Party at Motel Mexicola
One of a party place that well known for many years. Alot of Aussie are here for their first round before moving to another bar. This place is like awesome MTV Rewind that brings back a lot of good party memory if you are born in the year of 1978 – 1990 that you love your boy bands, scorpion, ABBA and all the new modern tracks too.
Location:
Jalan Kayu Jati No. 9X,
Kerobokan Kelod, Kuta Utara,
Kabupaten Badung, Bali 80361, Indonesia
Operating Hours: Daily : 11AM – 1AM
Tel:+62 361 736688
Day 4
Laid back
chill:
final night accommodation in Bali change to 5 star Bali Hotel to The Stones Hotel – Legian Bali, Autograph Collection
Reasonably price and if you do have the budget, worth to stay as it comes with private bath tub at the balcony and love their swimming pool. Just 10 minutes walk to Kuta main area. Kuta beach is just right at door step which is 3 minutes walk.
The Stones Hotel – Legian Bali, Autograph Collection (click here)
Jl. Raya Pantai Kuta,
Banjar Legian Kelod
Legian Bali, Indonesia
3pm: Heading downsouth to Uluwatu Temple  (I was indecisive to do either sunset watching or to do the famous Cultural Kecak Fire Dance performance)
5.30pm : Laid back at famous Rock Bar at Uluwatu to enjoy sunset drinks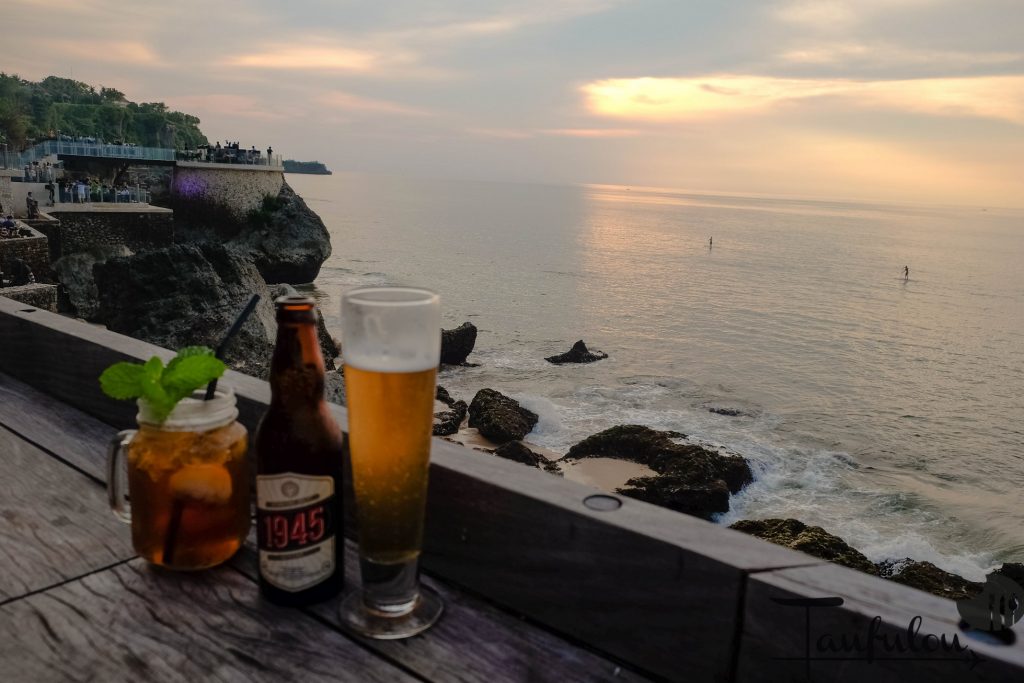 8pm: Head over to Jimbaran for seafood dinner
there are alot of stalls here and the most famous is Manega Cafe, which my friend say is overrated and the rest of the stalls taste nearly the same. So randomly pick this cafe (New Bayang Cafe) and turns out to be good. Love their seasoning and less pack.
10.30pm :
Party at Motel Mexicola which is also a famous Instagram venue. If you are born in the 80's and listening to your ABBA, Moffats, Micheal Jackson, Black Eye Peas, this place played the right note for you. Give me a good remembrance of my party times back my teenage days.
Day 5:
chill at hotel area
Lunch at famous Babi Guling Pak Malen beats Ibu Oka which is way overrated and I did not finish my meal last round.
Location:
Jl. Sunset Road No.554, Seminyak,
Kuta, Kabupaten Badung, Bali 80361, Indonesia
Operating Hours: 8.30am – 7pm
Tel: +62 851-0045-2968
currently the best Babi Guling that the locals head to is a mini stall in Mambal market as it is prepared using wood fire. I miss out cuz I woke up late and only if you are on the way heading to Ubud as you will pass by befor reaching ubud:
1) Warung Babi Guling Bu Ngurah Mambal is located by the Mambal traditional market, Abiansemal.
Open daily from 5am to 11am
Check out the most famous Famous Gusto Gelato Cafe.The queue are crazy. I find it quite good as alot of fresh ingredient are being used.

Location:
Jalan Mertanadi No. 46B,
Kerobokan, Kuta Utara
(which is just 3 minutes from Babi Guling Pak Malen or Naughty Nuri – Seminyak)
For instagrammer this is the place which you might not want to miss (which I have miss out)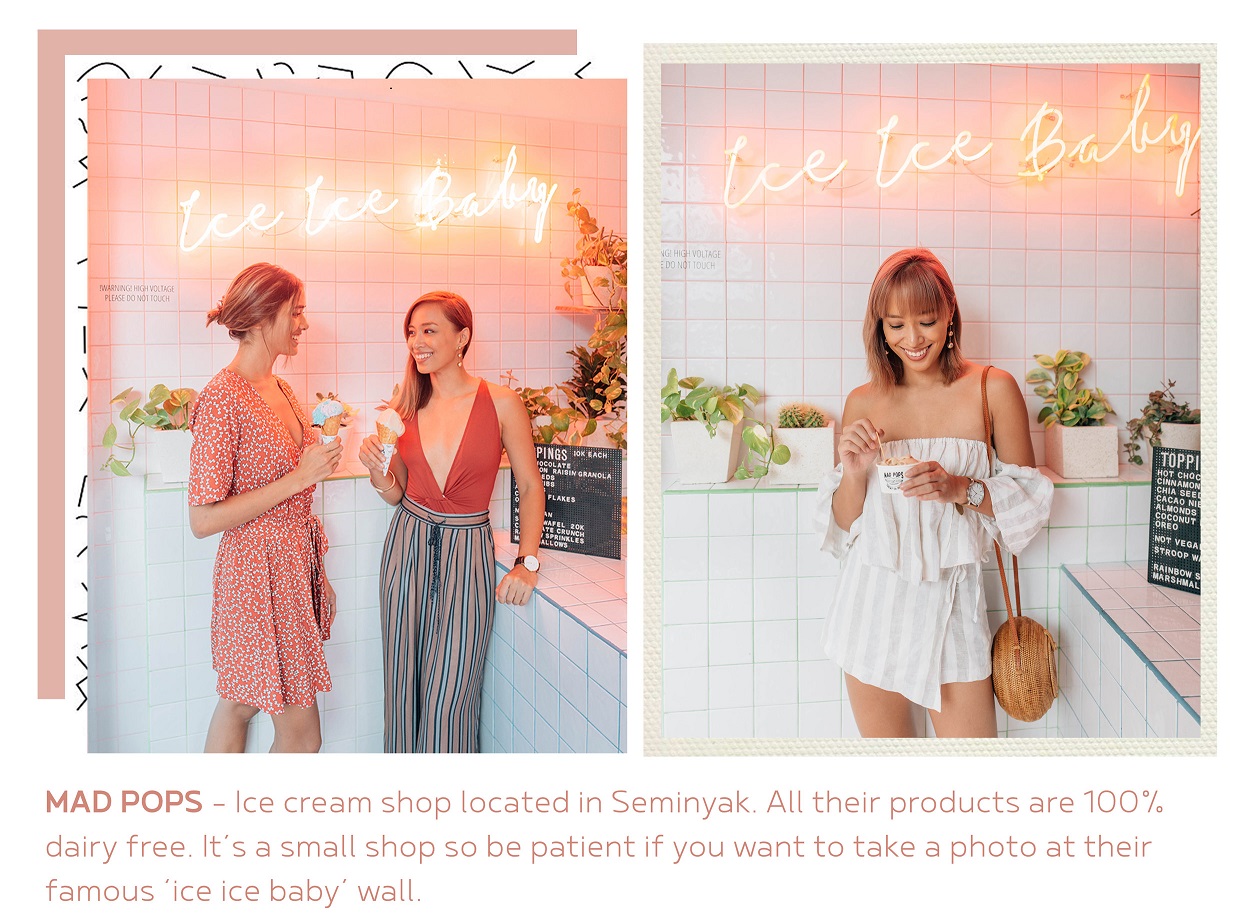 Picture credit to lissakahayon (do check out her blog too as she went to alot interesting places in Bali) especially those of you want to do nice shot.
Mad Pops Bali
Jl. Kayu Aya No.48, Seminyak, Kuta, Kabupaten Badung, Bali 80361, Indonesia
Well, this is one of my most recent summary. I guess shall dig up my past 3 trips and do a summary of it too.
Here are my summary :