Rama V. Rama V is one of a casual fine dine that establish quite well among many folks around the area. Sitting in Jalan U thant where the upscale residence is, fits well with the society there. Having a Thai chef in the house and with the new chef that came on board, I am impress with his cooking. His cooking style is from the Northern Thai. Therefore do not expect spicy flavour like the southern side of like Bangkok or Hatyai. Flavour is more on sourish, clear and fragrant leaves.
As for this Chinese New Year, they do have Chinese New Year Menu too. We had the Fortune Set @ RM 468 which is for about 5-6 pax
Environment here is slightly different, as they do have private rooms seated outside in this village like houses from 2 pax – 15 pax.
Dining area is more on the comfort luxury style.
As we early, we kick start with their cocktails. I am not a big fan of cocktails but they are certainly impressive. The cocktail are Thai inspired which have elements of Thai ingredients.
If you like something fresh, yet flavour profile is quite prominent, Pinklao @ RM 24.85 whisky, lime jice, coconut water, pumpkin spice syrup is one of my favourite.
Princess Fa-Ying @ RM 24.85
Tequila, Lime Juice, Spice Syrup, Crafted Grapefruit soda, ginger Beer Soda
The Royal Dome @ RM 27.45 – White rum, Strega, Spice syrup, orange bitter. this is another of my recommended too, if you like smokey flavour.
Khing of Siam @ RM 24.85
Vodka, Passionfruit puree, lime juice, bunga kantan (torch ginger flower syrup) ginger, kaffir lime leaf
If you are explorer, this is a very interesting cocktail as the element they have it in there is like drinking hint of tomyum that is cold yet with alcohol content. worth to give it a try.
One of the girls favourite is this Queen Suriyothai @ RM 24.85 -Gin, Lynchee liquer, yuzu puree, lemon juice, egg white, sugar syrup, basil leaf. Refreshing, intersting, sourish, with hint of sweetness yet fragrant foam egg white.
Find that their cocktail is very affordable and these are my recommended cocktails for first timer base on my palate:
Queen Suriyothai

(girls can start of with this)

The Royal Dome

(for smoky lover)

Pinklao –

first perfect glass to go after.
So for their set, they do have Thai version of Lou Sang that topped with scallop, thai fish cake, smoked duck and other fresh ingredients. Quite interesting and quite good as the sauces that add in there is a good balance with the ingredient on the plate.
Starting off with Soup – Golden Shrimp Tom Kha– Spicy tomyum soup with coconut milk, oyster mushroom, lemongrass, stuffed prawn bali and Shrimp rice. The broth is good, mild sourish and spicy then you can taste a hint of sweetness aftertaste that comes from the coconut milk.
Main Cource:
Steamed Seabass with Tom Khong Sauce. Not the typical steam fish that is pack with garlic and chili, this version is to enjoy the freshness of the fish meat and clear sourish soup.
Stir-Fried Brussels Sprout with Sea Scallops in Thai Royal Sauce. Love the cooking style with the sauce, it would be perfect if the Brussels sprout is the crunchy version.
Stir Fried Tiger Prawns with Pia Kong Sauce
Personally, I feel this is the best dish in the menu as Rama V Braised Duck in Thai Spice Herbs Served with Kai Lan and Asparagus. Sauce is thick enough, yet every bite is very fragrant with thai herbs. Put it in a way is like Penang Kuih Chap but in Thai version that the soup had shimmer down to thickness. Perfect to go along with rice. Duck meat is best if it is slightly softer.
for dessert, we had:  Jasmine Mango Pana Cotta, Pandan Creme Dumplings, Ja MOng Kud (egg yolk dumpling in Wheat Flour Crown)
Was told by the waiter that this dessert Ja MOng Kud (egg yolk dumpling in Wheat Flour Crown) was done specially for the royal family in Thai. Quite an interesting texture. Something new to me.
I have been to this Thai restaurant in KL few years back for a birthday celebration and I think now is much better.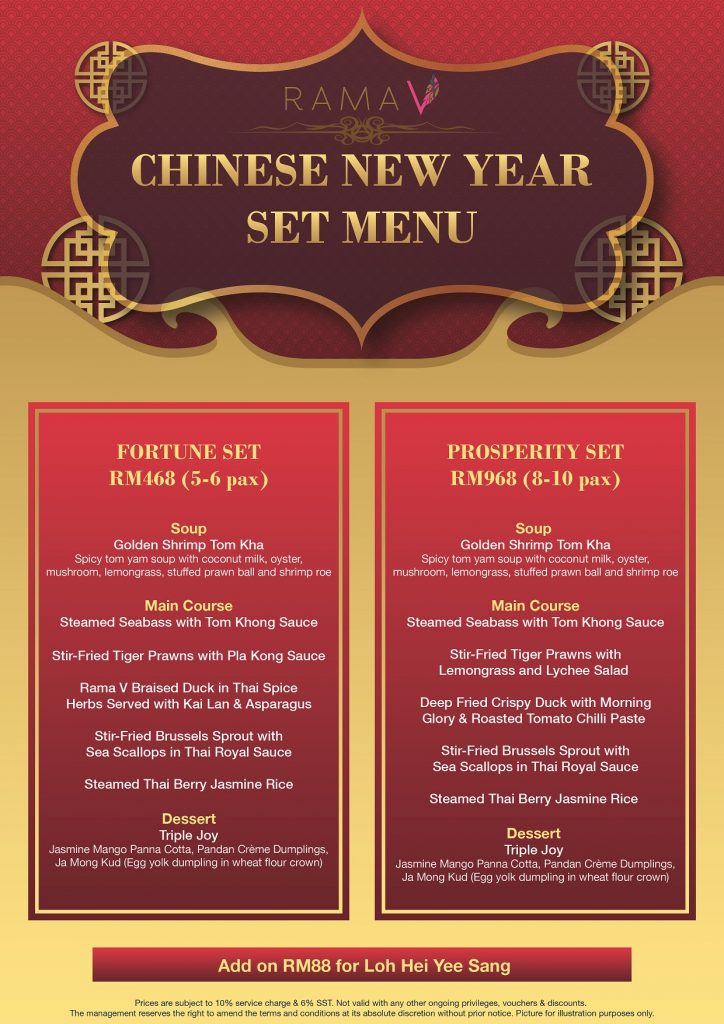 Location:
5, Jalan U Thant,
Kelab Golf di Raja Selangor,
55000 Kuala Lumpur
Operating Hours: 12pm – 3pm / 6pm – 11pm
Tel: 03-2143 2428