Among many of my friends that have visited De Wan 1958 by Chef Wan at The Linc, KL indeed gave a good review and thumbs up for this place, till recently I get to try along for a private function. No doubt it is indeed serve pretty good Malay cuisine.
I was here on weekdays so was told the crowd is not huge and it is pretty full house over the weekend. It is highly advisable to make a reservation before you come. This is to avoid any private functions that they have too.
Curious about their menu and price (click here)
Best of all, they have private dining room available that can sit up to 10 pax.
As the food was serve, the smell of those spicies and curies instantly makes me hungry.
Cucur Udang is classic street food and it is done right. Dipping with both satay and chili sauce is just perfect.
Starting off with a classic dish – Pucuk Paku that is cook to perfection. Not too soft yet I can still bite slight crunchy texture of the veggie and sqeezing a bit of limau indeed enhance the flavour.
Udang Kari Hijau Telur Masin is indeed one of the highlight for the night. Prawn is fresh and big. Sauce is sticky with a bit of twist. Hint of chili skin after taste and the telur masin not overpowering yet goes very well with the whole flavour.
you will never go wrong with dishes that is bakar. The only thing is the ingredient must be fresh. Jumbo Sotong Bakar with Sambal Colik is indeed spot on. Ia mixture like of Indonesia x local malay taste infuse for the sauces.
We got serve with 2 types of rice and it is recommended.
Nasi Lemuni Berseri Perlils
Nasi Telur Terrenganu
For curries they serve Daging Rendang Selangor. Spices are mix well and with the right amout, every one have their own version of curries recipe and I find it is qood.
Some will be stronger in spices, some is stronger in spicy but I like this. Both balance of spices and mild spicy, that can easily goes well with your rice.
Ayam Masak Merah Chef Wan  is abit more solid. Slightly strong in spicy end with mild sweetness. Chicken is soft and juicy.
This is the first time I am having Umbut Kelapa Lemak Solok Lada. I find the taste is quite interesting. cook with a kind of noodle in it and I think those of you have never try before, I believe it is a dish worth to explore.
If you have the budget and looking for nice ambiance or atas great classic Malay food, then I believe you can check out Chef Wan restaurant in KL.
I check their FB, they do have Ramadan buffet for all Muslim friends that wishes to go. For their De.Wan Ramadan Buffet Menu (click here). Best to call them up or visit their website (click here)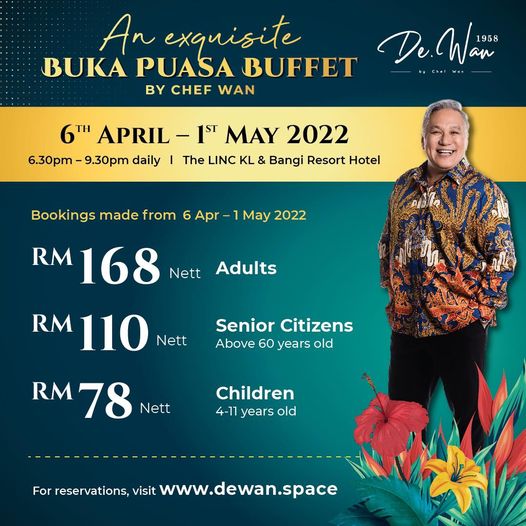 Location:
De.Wan 1958 by Chef Wan
The Linc, 360, Jln Tun Razak,
Taman U Thant, 50400 Kuala Lumpur
Tel: 1700821558
Operating Hours:
Mon – Fri : 11am – 4pm/ 6pm – 10pm
Sat/ Sun: 11am–10pm