While night hits at Bangkok, what do you do next? Well, this round I did not hunt for clubs as went to search for hidden bar or cocktail place and apparently I found this hidden cocktail bar in Thonglor in one of a road that house this unit like a second hand furniture shop is this Shades of Retro. Coincidentally, this place is also one of a neighborhood cocktail bar that he frequently visit.
There is a potential that you might miss out this place while you are looking for it as the sign board for the bar is so small and the only way to recognize them is this big white led light.
Space is quite limited in here as there are only about 5 tables and bar seatings.
The whole interior is quite interesting as instead of giving me the look of second hand shop, it gives me the feel like I have went into Indiana Jones equipment hunting ground.
One of a recommended drink is this Smoke On the Water. Smokiness of the drink to be capture for at least 3 minutes then only you are allow to drink.
Upon opening the glass cap, you can smell the nice aroma of smokiness of oak, follow by the nice alcohol infuse in it.
For simple oakiness of flavors yet a little strong in taste, then this would be one of your ideal drink. We ended up have 3 glasses each.
For the girls, they had Ol-Bitch. Smooth creamy finishing with a touch of sweetness in it. Girls would love it.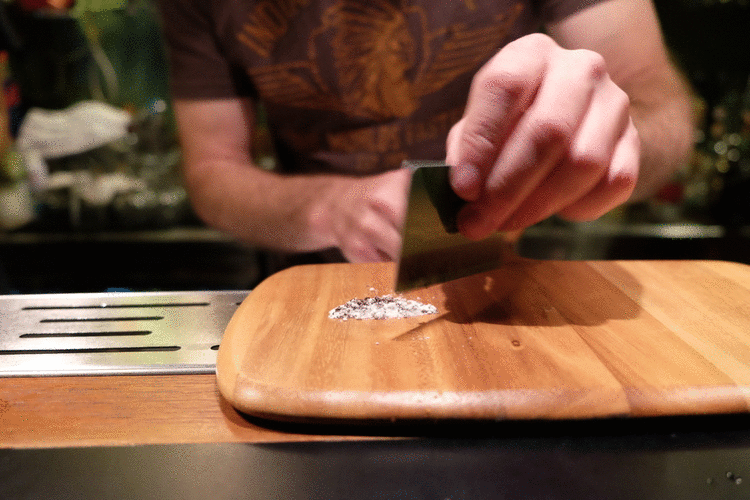 What is up in the cheif mixologist is this very interesting shot platter. If I remember correctly – it is called Ko-Kaine. Spill with 3 different types of powder that is prepack in pill form. With one of the capsule is coffee powder
Then it is divided exactly like you are taking drugs along with a shot of strong vodka (if I am not mistaken). Serve in a platter of 3 shots.
You will be given a short straw and you have to suck hard on the powder follow by a shot of vodka. It is a great mixture as it instantly do hit your head but the after taste of it is very aromatic and follow by hint of coffee taste after it. Indeed a platter highly recommended.
We ended up had 2 platter.
After those drinks, my friend ordered their beef burger, that he mention is one of his favourite but on that night, it was a let down where taste is not like what he have usually tasted, only realise that the main chef to cook on it taste much better.
For a side note, their Basil Chicken Rice is indeed a bomb. After some whisky and shots, this dish taste amazingly good. Chicken filled with wok hei, where the sauce is just nice that did not over powering where you can taste the fragrant of fried leaves too.
We had alot of drinks that night and thanks to the cheif mixologist for making all our drinks. Our bill was estimated 6500 bhat.
Location:
Shades of Retro
808/12 ซ.ธารารมณ์2 ถ.สุขุมวิท55 แขวงคลองตันเหนือ Watthana,/
(Soi Tararom 2, Sukhumvit 55 Road)
Bangkok 10110, Thailand
Phone: +66 2 714 9450
Operating Hours:
Daily: 4pm – 2am