Bakery is a very common shop which is needed in any mall development. However, this particular bakery that sitted at ground floor, Ikon Connaught Cheras did impress me as I had the opportunity to meet one of our very home grown young talent, Chef James in this Spring Berry Bakery.
Ikon Connought is also one of a latest development in this area which is small and on their ground floor is rather impressive, that house many F&B, such as Latte Place, Renoma CAfe, Cha Time and many others.
Spring Bakery is one of them as you walk in through the main Entrance, its hard not for you to notice them with their bright yellow design.
Its a simple bakery that house all your needs as they do everything fresh and they have their very own unique recepi.
Meet Chef James, the master mind baker behind Spring Berry Bakery which I am very impress with his determination to produce a good product for consumers. Through our conversation, he mention that he is not a person who is good in study, yet in order to survive in this society, technical skill set would be his next venture therefore he decided to become a baker and took a course since then.
Through hard work over 7 years, with low pay and yet some sheer luck, he landed himself under right mentor ship from a chef baker which is very well known in the 90's which is now retire, did pass him a few master recipe under his belt, also makes him the last apprentice from the mentor.
Therefore, most of the bread is all his creative and there are 5 products that are James specialties that will be mention at the end of the post.
Price range is very reasonable which is starting from RM 2 onwards.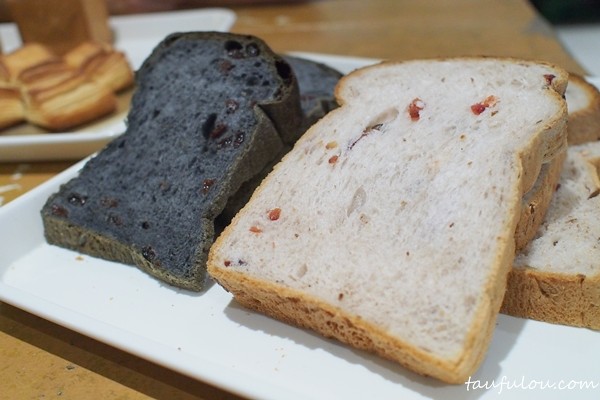 For those who are health conscious, their homemade meal bread charcoal and rapsberry are a must grab procduct. Soft & airy. I just do not mind to eat it bare just like that.
Another special product that have huge raving since last year, origin from Penang. As being inspired from the product demand, and thru 4 months of R&D himselves, he has come out with his very own Peel Bread.
He also proud to say that currently, he would be the first bakery to own this product and I would say, its highly recommended. Simple eating for kids especially and it really does peel by layers to finish it, especially the base its slightly burn yet crispy and sweet end. – Highly recommended.
Next range would be their cute, yet squarish Brioche @ RM 5,90 each.  
Eye captivating and made to perfection, comes in 3 flavour.
Among the three, I personally like the almond. Good thing which is, inside of the bread do coat with some almond taste fillings.
When James started this bakery, he thought that Cheras would have demand in European version bread which is hard bread. Never did he know that the habits of folks around this area did change and challenge him into another dimension.
I am recommending his European bread too as look hard on the outside but its soft inside, which is totally different and currently also one of their best selling product too.
This almond European bread sure do look weird, I do taste good!
When comes to Croissant & Danish, I am very picky as it does look easy to bake but its another level of challenge and Its recommended from me. I love the crust of this both, which is airy and crips, yet inside is soft which is just perfect. Danish is also a must buy item. By practicing everyday, it took James 2 years to master it.
As a new bakery in the area, they do have a mini starter pack where you can buy off the shelves to try out 4 different types of bread and fillings.
For a homegrown talent and bakery, which focus on quality products to end consumer and the pricing of it, this has falls into one of my recommended bakery at the moment.
James very own own top 5 recommendations would be:
1) Peel Bread
2) Crossaint
3) Broiche
4) European Bread
5) Danish
Contest:
I am giving away 3xRM 50 cash voucher for this bakery by just answering simple questions below:
1) Name one of a range from James Signature Bread.
2) Where is the shop located?
3) Are you a bread lover & why?
T&C:
1) comment in the comment box in the blog.
2) Best and most creative answer wins.
3) Do include your valid email in this and winner will be contacted via email.
4) Winner: failure to reply within 48 hours, shall pass to next winner.
5) Taufulou.com have the rights to amend the mechanics and revoke winner if find it irrelevant.
Contest Ends : 10pm – 8th Feb 2015
 Location:
Spring Berry Bakery
Ground floor – Ikon Connaught
Jalan Cerdas, Taman Connaught,
56000 Kuala Lumpur,
Operating Hours: 10am-10pm
Tel: 016-626 2041