It seems that now Sunway Velocity is becoming like a mini ChinaTown. It turns out to be alot of China Hotpot is operating in this area and there are more popping up over next few months. I have been to both outlet a few times except Chuan Chuan.
1: Xiao Long Xing Jiang Hu
Standing tall in the list is this place that stood top in my list. One of the best China Szechuan hotpot in this area or easily top in my ranking at the moment. Love the spiciness,numbness and strong spice flavour for the hotpot. also the ingredients here are quite fresh. (they have changed name and no longer the authentic as they claimed to be)
the only set back will be the price as you order 2 types of soup will easily cost RM 58. So best to come with at least 4 pax.

Easily dining per head here will cost about RM 80 per head. Read more here. 
Location:
Xiao Long Kan Hot Pot
V05-01-02, Signature 1(V05) Lingkaran SV,
Sunway Velocity, Maluri, 55100 Kuala Lumpur
Opens daily from 12pm to 12 am
Phone: 010-213 3382
GPS: 3.129573,101.723144
2: Suding Xiang Hot Pot 蜀鼎香重庆火锅
Shuguo Yinxiang Restaurant  over here is milder if were to compare to Xiao Long Kan that located just further end of the street.
This outlet do have their own crowd too, as this place is constantly queuing. Do not miss out to order the China Rice Wine as it ranges from RM 30 – RM 60. Decently Price.
Per head spending here is about RM 80 onwards too. Read more here. 
Location:
Shuguo Yinxiang Restaurant 蜀国印象蜀國印象·火锅
1st Floor, V03-01-03A, Level 1, Boulevard,
Sunway Velocity 55100, Kuala Lumpur
Tel: 03-9770 0078/ 03-9770 0079/ 012-9939 369
Operating hours: 11am-2am
3: Chuan Chuan Xiang Mala Steamboat
For some reason, many of my friends mention not to try this outlet out. So this is for you to decide as it is not worth for what you are eating or in a nutshell it is very expensive. Chuan Chuan it means like skewers or I call it our Lok Lok but in China version.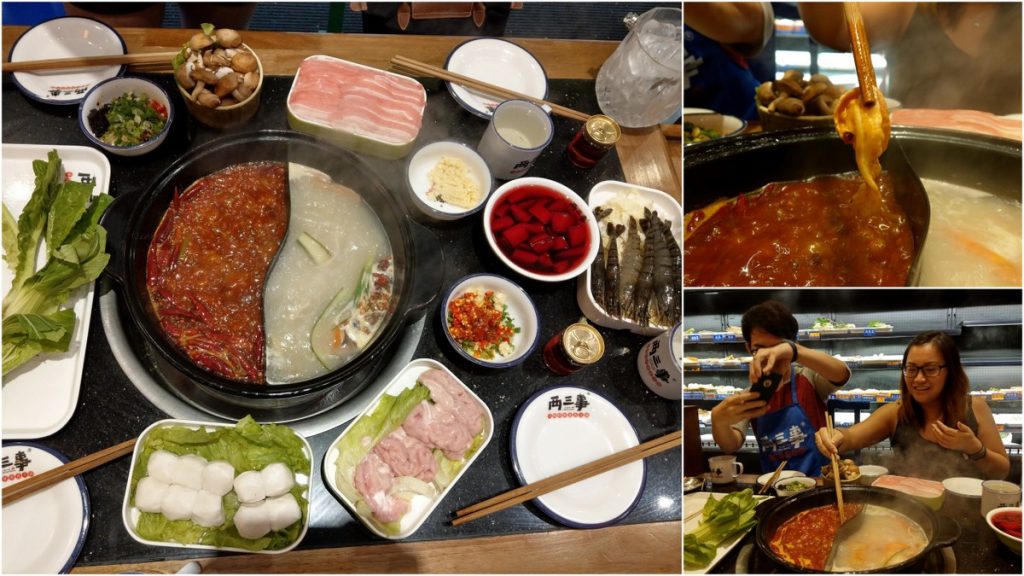 pic credit to Kyspeaks
Location:
Chuan Chuan Xiang
VO3-3A-6, Sunway Velocity,
Lingkaran SV, Maluri,
55100 Selangor
GPS: 3.127852, 101.725303
Tel: 018-771 6999