After Christmas, Chinese New Year is always the next. For year 2018 is the year of dog and many restaurants ushering their way for traditional dinner set. You can consider celebrating A Bundle of Prosperity with Tai Thong Chinese New Year Menu 2018 .
A never miss dish before the start of dinner is our tradition of tossing Yee Sang. This year they are heading off with healthy version which is Golden Fortune Yee Sang with Assorted Fruits & Nuts 春暖花開鮮果撈生 RM68++/half portion; RM108++/full portion including ingredients such as , ruby-red pomegranate, juicy dragon fruit, tangy mandarin orange and floral-sweet rose apple, drizzled with Tai Thong special homemade sauce.
Alternatively you have other add on options such as Salmon & Smoked Duck, Australian 5-head Sliced Abalone, Jelly Fish or all the mentions.
Another crowd favourites to add on or to start off with is Opulent Poon Choi 玉犬呈祥錦銹盆菜  @ RM398++/ per pot. The pot is filled with, Sea cucumber, dried scallop, fish maw, dried oyster, sea prawn, straw mushroom, roast duck, braised pork knuckle, vegetarian goose, fresh beancurd stick, button mushroom, taro, radish, broccoli, fatt choy and shower with Tai Thong secret abalone oyster sauce.
Hua Tiao Egg White Steamed Alaskan King Crab 蛋白花雕蒸阿拉斯加皇帝蟹. King crab is breed by its own that gives you nice crab meat texture and the sweetness of it is very natural. Do not need to do much on it. A simple touch of steaming with white egg and Hua Diao wine is a perfect combination to hit on it. Simple cooking method that gives you burst of flavours. @ RM 988 for ala-carte.
There is an option for you to choose this if you are dining with Tai Thong CNY Abundant Delight and Golden Auspicious Set Menu, you may upgrade the 'Steamed Sliced Cod with Mushroom and Chicken Ham' dish or 'Cheesy Baked Giant Prawn' dish to Alaskan King Crab with additional of RM398 only!
As always watch in Hong Kong cooking show or food guide, Double-boiled Buddha Jump Over the Wall with Abalone 奢華至尊鮑魚佛跳墻 is one of a soup that constantly love to be featured. Soup is filled with with mushroom, dried scallop, herbs and abalone. Always love my meal to start off something light and warm that makes this double boiled soup perfect.
Cheesy Baked Giant Prawn 芝士焗烤金龍 (Individual Half Prawn Serving). This big prawn is huge, close to the size of my palm. Perfectly cook that maintain its freshness and chewiness of the meat, top with melted cheese on top to give the extra cheesy saltiness on it.
A dish that will never go wrong that cooked perfectly is this Steamed Sliced Cod with Mushroom and Chicken Ham 原汁麒麟蒸銀鱈魚
Steamed Giant Scallop with Golden Garlic and Glass Vermicelli (Individual Serving) 銀絲金蒜帶子皇
To finish of your mains, usually this will be in the set, Claypot Sausage Rice Hong Kong Style 正宗港式潤腸煲仔飯. Ingredients in it are, duck liver sausage and Chinese sausage which is a must have or preferred then one of an important ingredient is dark soy sauce that gives the profile flavour of the dish. Always love my claypot rice with abit burn at the bottom and mild sweet and salty at the end.
For Chinese New year set meal, I always love my finishing desserts to be classic.Divine Radish Cake and Red Date "Nian Gao" Duet (Jujube Sticky Rice Cake) 咸香四溢蘿蔔糕及补气养血紅棗年糕. Love the texture of the nian gao and the classic way to eat it is with shredded coconut.
1) Double-boiled Yellow Wood Fungus with Chinese Healing Herb and Dates 添壽鮮山藥大棗燉金耳
2) Double-boiled Snow Seeds with Snow Pear and Chinese Healing Herb 潤肺降火雪梨川貝燉雪蓮子
Sticky Ginger Rice Cake coated with Almond 脆皮杏仁姜汁年糕
Premium Belgian Chocolate infused in Nitrogen 精巧液氮比利時巧克力. Would be one of a new experience for diners.
Apart from ala-carte order, Tai Thong comes up with 4 CNY set menu this year  :
Flourish Fortune at the price of RM538++/6pax, RM838++/10pax;
Blooming Prosperity RM638++/6pax, RM1038++/10 pax;
Abundant Delight RM888++/6pax, RM1488++/10pax;
Golden Auspicious RM1198++/6pax, RM1898++/10pax.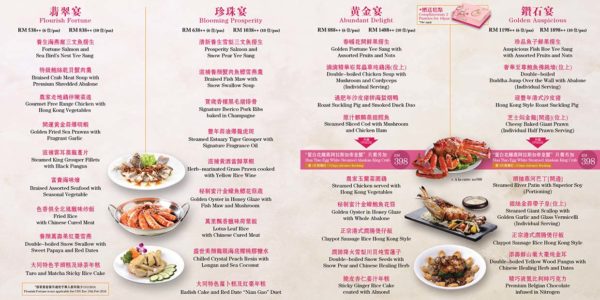 Tai Thong also serves Muslim friendly menus at these pork-free outlets such as Oriental Pearl Bukit Kiara, Oriental Pearl Bukit Jalil, Spring Garden Kota Permai, Spring Garden Tropicana, and Spring Garden KLCC.
You can start to make you reservations for reunion dinner at:
Book your Chinese New Year dinner with Tai Thong today! For more information, check out Tai Thong official Facebook, Instagram and Website or contact 1800-88-2338.
大同 Tai Thong outlets:
Kuala Lumpur:
Tai Thong Odeon Restaurant (Kepong Baru)
Imperial City Restaurant (Cheras)
Spring Garden Restaurant (KLCC)
Oriental Pearl Restaurant (Bukit Jalil Golf & Country Resort)
Oriental Pearl Restaurant (Bukit Kiara Equestrian & Country Resort)
Petaling Jaya:
Imperial China Restaurant (Subang Jaya)
Imperial Garden Restaurant (Petaling Jaya)
Spring Garden Restaurant (Kota Permai Golf & Country Club)
Spring Garden Restaurant (Tropicana Golf & Country Resort)