The ENTERTAINER 2018 is actually a brand that focuses on Buy 1 Free 1 deals. Just one word sums The Entertainer and it means SAVINGS! Founded in 2001 by Donna Benton, the ENTERTAINER is the leading provider of incentive offers from well-known dining, leisure, entertainment, beauty and hotel brands across the Middle East, Asia, Africa and Europe with their signature buy 1 free 1.
At the event launch last weekend, we found out quite a number of interesting deals when you purchase The Entertainer Malaysia 2018 during this limited period of time. Besides that, you will get Cheers Malaysia 2018 and Bali 2018 absolutely free. Cheers 2018 includes hundreds of Buy One Get One Free offers for the best restaurants and upmarket bars including PAUS Craft Bar, Taps Beer Bar, Stratosphere, View Rooftop Bar, Berlin KL, Zion Club KL and more.
Upon arriving, we were given the task to find a key to unlock my padlock. To me, this hunt has an indirect hint which means to unlock all of the Entertainer 2018 deals! Sounds cliché and yet so true.
Unlocking friendship moment with the famous travel blogger – Tommy Ooi (center)
The unlocking game is indeed fun as it got most of the guest moving around looking for compatible keys to unlock the padlock. Hey, if you're not aware there's another aim in this game. It's actually to remind everyone that during this special period, customers can save RM240 off the regular price on the 2018 products. You can also unlock 2017 offers so you can start saving right away! Plus, early bird purchases include Cheers Malaysia & Bali for FREE. That gives you 4 deals in total for one single purchase.
new unlock partner – Janice Yeap
with best buddies Kelly Chin & Isaac Tan
New for 2018, Bali 2018 features offers to use when travelling to Bali. Customers can enjoy the best restaurants, spas, beach clubs, bars and cafes across the island. Some of which include Kilo Bali, Sangsaka, Cocoon, Chachara Bali, plus popular dining spots within the Intercontinental Bali Resort, Sofitel Bali Nusa Dua Resort & many more.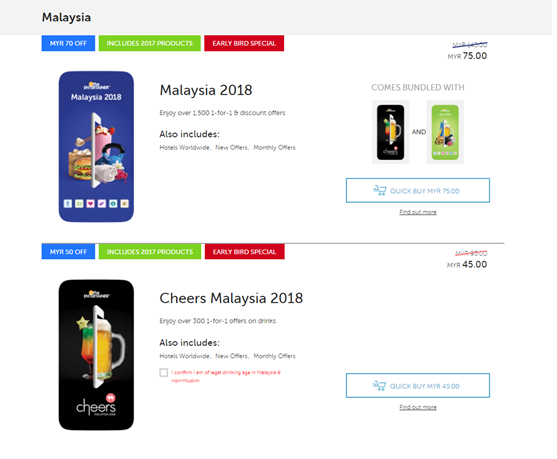 With the purchase of any MY product, ENTERTAINER members will also enjoy exclusive access to ENTERTAINER getaways – a brand new in-app booking engine which has exclusive rates at over 550,000 hotels in 200+ countries.
The 2018 ENTERTAINER products will be available to purchase through the website or the app from 25th October – at a special early bird price until 30th November 2017.
'The ENTERTAINER' app is available for free download on iOS and Android. Better hurry as the saying goes 'The early bird catches the worm'! So please catch me and don't let me drink alone. The more the merrier.