Last weekend when I head back to Penang, my friend introduce me to this new place which is Nagore Square. Find that the concept is rather interesting that gives me the feel of Japan where alot of operators operated their business in a cabin space. The place is rather small that you will be running a business with your close up by hosting regulars where you can have a great conversation with the owner. One of the well known player in there is The Inside Bar.
As you can see, each lot might only can house a table or two.
As you walk till the end, you will reach this area which is the most busiest among the rest, where it is flock with alot of younger crowd.
This is their little bar where all the seating area is at the common area.
Most of the crowd here are after their cocktails and known for their The Inside Bar signature Rainbow Shots.
This is their well known Rainbow Cocktail Shot @ RM 38 if I am not mistaken. Well, for this drink it is more like a photo opp. Taste is more onto their coloring mix rather than any taste of alcohol.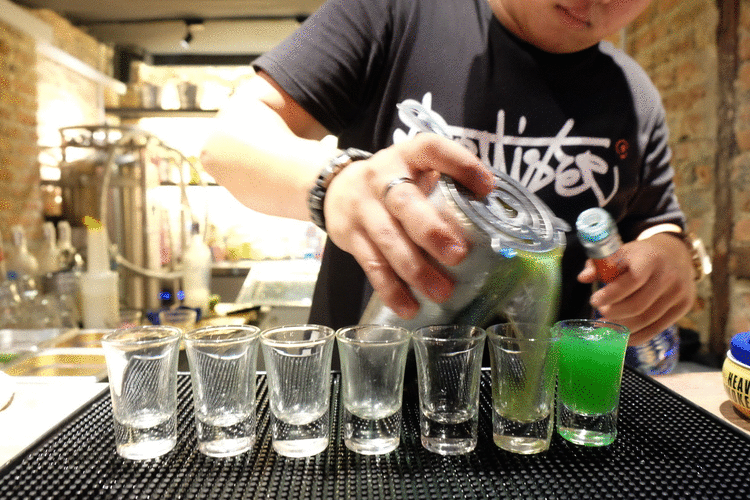 This is another well known drink from them where I find it rather too sweet to my liking.
If you are here, there are a few things you need to bear with them.
Space limitation – we are talking about 10-15 tables max?
Service is rather slow – best to order at their bar
The area is very warm, as the operate with small fan
It will be cool if they can add in more industrial fan and with some live band playing over weekend and also Summer EDM music background over weekend.
Location:
The Inside Bar
Nagore Road, 10150 Penang.
Operating hours:
Daily 8pm till late
Website: www.nagoresquare.com