Whisky lovers out there, this will be your chance to sample alot of whiskey over this event as The Whisky Society 2017 will be bigger compare to last year. This year will be the third year it is running as the demand from the crowd is getting more and more.
What is The Whisky Society?
Launched for the first time in 2015, The Whisky Society is a small whisky tasting festival for all whisky connoisseurs; be it beginner or expert. The concept of the festival is simple: a tasting glass is given upon entry and simply approach any whisky booth and politely request a dram for a taste. We suggest that everyone taste at least every whisky once on the first round and then proceed to favourites.
Why is The Whisky Society Created?
In 2015, we held a private whisky tasting in a remote location for 150 people, serving just under 10 Scotch whisky labels. In 2016, we more than doubled that number to 400 pax, serving 37 variants under 12 whisky labels from Scotland, Japan, Taiwan and even a rising newcomer in the industry from India. The growth and expansion show there is a demand so this year; we finally opened our doors to not just whisky, but to other spirits which will include rum, gin, bourbon, sake, and much more!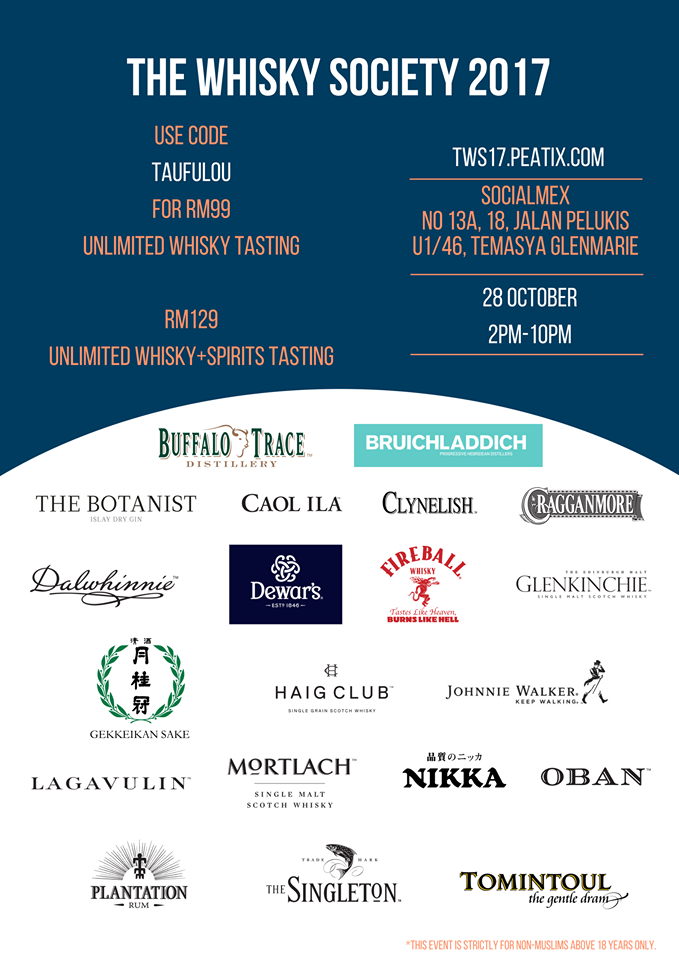 What sets The Whisky Society apart from other tasting events is the selection of 'Under the Dram'; a collection of more than 10 premium whiskies, some of which retail for thousands of ringgit. With each token sold for RM25, guests had the chance to try a shot of their chosen 'Under the Dram' whisky, offering a onceinalifetime opportunity to sample the rarest and most luxurious drams.
Use the code of Taufulou for just RM 99 and unlimited whisky tasting.
TICKETS AVAILABLE AT TWS17.PEATIX.COM
Standard Ticket (Whisky Only)
RM129
Premium Ticket (Whisky+Spirits)
RM159
Whisky Buddies (Buy 3 Free 1)
RM450
Secret Dram
Pay-Per-Shot premium whiskies (ask at the booths directly)