Starbucks seems to be making its mark every year by building the biggest roastery or cafe. What I know they had one in Shanghai, China. Then currently, the World Biggest Starbucks Reserve Opens in Tokyo about weeks back.
A roastery that is design by Japanese architect Kengo Kuma (the man behind the main host stadium for the Tokyo 2020 Olympics.) , as the 4-story roastery was inspired by the cherry blossom trees that line the nearby Meguro river. Hence the to glass walls and terrace, is design to allow customers to gaze out over the sakura trees when they're in bloom. Build along with the world's largest Teavana tea bar, as well as an events lounge. A four floors that will be fill with sensory coffee immersion .
source from: soranews24
As you walk into the building, you will be greeted with their singature mermaid logo and a grand tall glass panel door.
source from: soranews24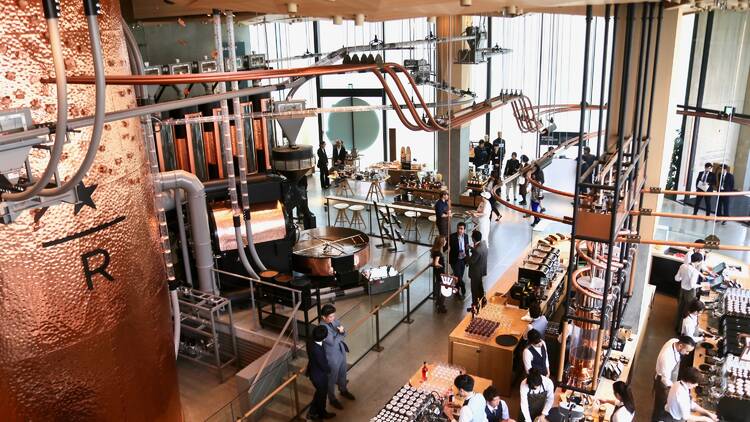 source from: timeout
source from: timeout
the upscale roastery cafe and store encompasses a whopping 32,000 square feet (2,966 sq. meters)
source from: timeout
source from: Alexandra homma
source from: timeout
The biggest Teavana in the world
source from: timeout
the terrace that will be overlooking Sakura Bloom
source from: hype.my
A Willy Wonka-esque system of pipes crisscrosses around the gigantic 17-meter-tall copper coffee cask that dominates the center of the roastery, while 2,100 hand-crafted copper cherry blossoms dangle from the ceiling in homage to the sakura trees that line the Meguro river just outside. (source from ganjinpot.com)
source from: hype.my
1st floor: 
The floor design are master piece. Starting off at the Main Bar where customers can witness the art of roasting for themselves and sample original Reserve beverages like the Barrel-Aged Cold Brew. You can also dive into buttery-good Italian offerings from Princi, Starbucks' partner baker. There are also silos where the beans are stored next to the retail areas which stock exclusive merchandise including mugs, coffee cups, coffee grinders, stationery, and accessories.
2nd floor: 
The world biggest Teavana Bar which pays homage to the culture of Japanese tea, serving exclusive tea beverages and desserts. .
3rd floor:
This third floor is where I will be aiming. This is exciting as this will be Starbucks Japan's first cocktail bar, Arriviamo. Aside from wine, beer, and spirits, it's the coffee and tea-inspired cocktails like the Nakameguro Espresso Martini that might mean you'll end up accidentally getting drunk before work here. During Cherry blossom season, the wide terrace attached will the main attraction area, which to admire the cherry blossoms from above instead of below. The top floor, dubbed the AMU Inspiration Lounge, is the community space for locals to hold events that's also slated to host barista training and other seminars for coffee professionals in the future.
source from: hype.my
source from: hype.my
Regardless whether you're a coffee addict or not, you should pay Reserve Roastery Tokyo a visit if you're in the country. Definitely will be in my bucket list. For a very detail blog posting – (click here)
Location:
Starbucks Reserve Roastery Tokyo,
2-19-23 Aobadai, Meguro.
Opening hours 7am-11pm
For more information, check the official website.