Driving pass Publika numerous times where there are a few moments stopped at the traffic light and there is this restaurant that always capture my attention, as they hand nice Japanese Red Lanterns. It was only recently that decided to pay a visit, only found out that Tsubohachi is actually a famous franchise izakaya restaurant from Hokkaido that have their first outlet that located in Publika. Izakaya is actually a Japanese gastropub that is well known to many Japanese as a hang out place after work, where they drink and order snacks or bbq skewers.
I love their interior as it totally transport you to Japan where one of those small little eateries in a neighborhood, and the restaurant manager explains to us that the designer is actually from Japan and most of the items in the shop are all imported all the way from Japan too. For most smokers, you might love this place as the front dining area of this shop is smoking area, where the door right at the front will be open from 7pm onwards. Diners who would prefer smoke free will be seated far behind or in a tatami room. This is the first time I found out that their main customer base is Japanese as not many local do come by and I guess I have found a new great place for great Japanese food.
During night, this place would be a cool seating place.
We find that the pricing is very reasonable.
Variety of cocktails availble too such as the classic Umeshu ( Plum Wine ) @ RM 17.80 and Pink Shawa is actually ladies favourite – calpis, vodka, a type of syrup and soda. @ RM 7.50
Start off with Ankake Kani Chahan – Japanese style fried rice infuse with thickened crabmeat sauce @ RM 22.90. It looks quite similiar to our local "Mun Fan" (in cantonese) where this is Japanese version. Fried rice is fried to perfection that filled with wok hei and fragrant of egg can be tasted. Crab stock gravy just enhance the taste to have a little hint of sweet crab taste and its a perfect combo. Eat it while is hot, as when it is left a while, rice become soggy and the taste changes. – recommended.
This is something new to me as Raman Salada @ RM 16.90 is actually a ramen salad, with sesame dressing at the side. Quite interesting as like you are eating dry noodles with vegetable.
Love their Kani Chawan Mushi – Snow Crab Steam Egg @ RM 12.90. Fragrant, super soft steam egg and gravy is just perfect.
In their shop, is also famous for snow crab where it is imported all the way from a few countries depending on season.
Porridge lover, this would be my another recommendations as the texture of it is so soft that is nearly like Hong Kong "Chuk" but the texture is so different. Soft and yet can taste the mini grains of it. Stalk that is used to cook along had enhance the taste of it and after stiring all the ingredients in it, it change the flavour to slightly stronger with hint of onion and seaweed. Yuki just finish nearly all of it. Kani Zosui – Crabmeat Porridge @ RM 29.90
If it is a rainy day or you would want to have something simple then Zuwaigani Nabe – Snow crab with vegetable in hot pot @ RM 79.90 for you to kick start on.
As for this, we were told that to pair with their in house sake will be a great combination, so we tried out their recommendations – Shochikubai Kyoto Fushimizu Jitate @ RM 20.80 where they have a unique pouring method, serve with a base and fridge cold sake cup, pour onto the glass till it is overflow that signifies a great warm welcome and have a great time while dining.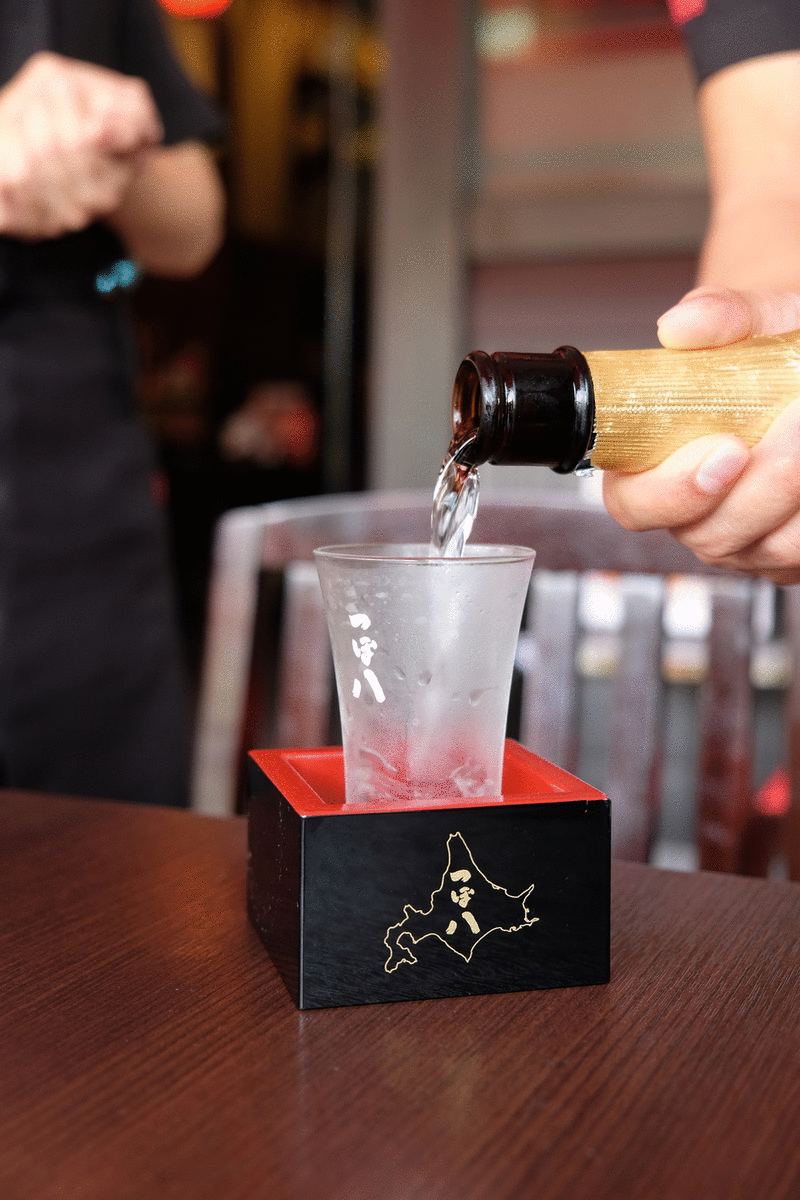 While for the usual best seller of Izakaya items will be their :
Reba – Chicken Liver @

RM 7.80

Butakushi – Pork Belly skewers with leek @

RM 5.80 

Torikawa – Chicken skin @

RM 7.80

Bonjiri – Chicken Tail (Chicken Backside) @

RM 7.80 
To pair along, with their range of skewers will be their Asahi Sub Zero (that is the first in Malaysia) half pint @ RM 25.80. It is more like Asahi Ice cold beer.
Definitely I am going to come back to try their other items.
Location:
Tsubohachi Malaysia
A2-UG1-9 Publika Solaris Dutamas, 50480 Kuala Lumpur,
(facing main road/above Bestari)
Phone: +60 3-6206 5526
Opening Hours: Daily 11.30am – Closing.