Oh well, I just finish my 2 weeks trip recently which I did had an enjoyable trip. This is also to mark my first time traveling alone to hiking at Lombok, Mount Rinjani and travel around Lombok and to the little island Gili Trawangan. Never thought that I would do this in my entire life. Ended up to be a fantastic trip.
[Alert, Spamming of pictures]
This trip was influence by my friend (Pamela) last year as she did hiking at Lombok and with her shots of the area is amazing. This had caught my attention to hike it too. My last hike was 2 years ago – up to Mount Kinabalu which I have yet blog about it.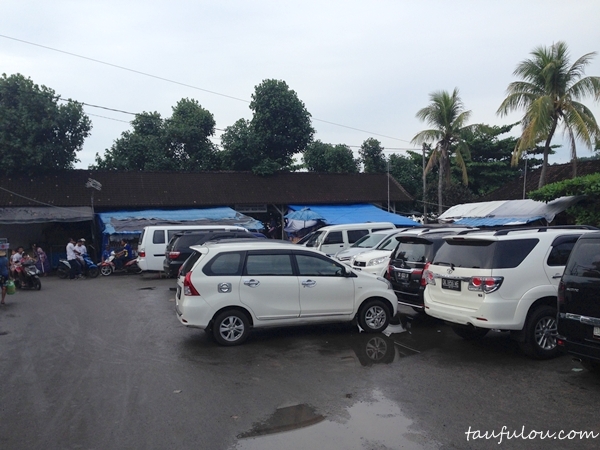 Back to my trip as I was exploring Bali with my family for 6 days before departing to Lombok alone for another week. There are actually 2 ways to go to Lombok from Bali, either with their local flight or by speed boat from Padang Bai (which is about 2 to 2 and half hours road trip from Seminyak). Some driver rate are charging from 300,00o rupiah to 500,000 rupiah. Mine I paid 450,000 which is quite expensive and I dislike my driver from the way how they tour us around.
There are plenty of places that you can buy the tickets from Bali island as most of the small little kiosk or SELF declare official people are selling the tickets.
Remarks: Foreigners from Europe or Australia especially, there are quite number of passenger got cheated or ripe off from the So-Called agent at town area such as Seminyak or Kuta. Do really do your research before buying the ticket as they told you its a speed boat ticket but ended up public Ferry!
There are alot of companies that provide speedboat services that you can purchase online as below that I manage to find out:
1) Blue Water Express
2) Gili Express 
3) Gili Bookings
4) Lombok Fastboats
5) BWS 
Many travelers are heading from here to one of a famous island in Lombok which is Gili Trawangan or to Lombok and prices ranges from USD 40-USD 60 per way.
This is the mini habour in Padang Bai . .
Not only travel alone for the first time that leads me to my first #selfie too.
Water around this area are very clear and quite number of divers do stay around homestay in this area and head out for diving sites.
I am taking Boat transfer from Mahi Mahi Dewata to Lombok that cost me 450,o00 rupiah (RM 150) that takes about 90 minutes to reach Sengigi, Lombok. Most of these boat are available in the morning only.
Seating area inside the boat.
Fell asleep and here am I 90 minutes later, reached Sengigi, Lombok dock.  All have arrange as my driver from the homestay for my hiking is picking me up. I have engage Treking Rinjani package for 3 days 2 nights which is all the way to Summit. Single hiker is estimated 3,300,000 rupiah (RM 1,100) all in, including meals, accommodation, transfer, 1 Guide & 1 Potter..
Its a journey of 2 hours and 30 minutes from the dock to the campsite of Sembalun. Will be passing thru the main town and what surprises me is that population in Lombok is more than Bali.
Mount Rinjani or Gunung Rinjani is an active volcano in Indonesia on the island of Lombok. Administratively the mountain is in the Regency of North Lombok, West Nusa Tenggara (Indonesian: Nusa Tenggara Barat, NTB). It rises to 3,726 metres (12,224 ft), making it the second highest volcano in Indonesia.
On the top of the volcano is a 6-by-8.5-kilometre (3.7 by 5.3 mi) caldera, which is filled partially by the crater lake known as Segara Anak or Anak Laut (Child of the Sea) due to blue color of water lake as Laut (Sea). This lake is approximately 2,000 metres (6,600 ft) above sea level and estimated to be about 200 metres (660 ft) deep;  the caldera also contains hot springs. (Source Wikipedia)
Before reaching, stop at this beautiful place for its great view and also strong cold wind is blowing towards me.
Here am I at Lembah Rinjani, Villa & Resto Sembalun.
sitted in this huge green plotted of land, all items were pretty basic.
simple room with towels, water and best of all, do not have HOT water. its freaking cold water if you bath at night or early morning.
While I reach too early, nothing much to do around the area, I just sit infront of my porch playing my games, enjoying the peacefulness and green landscape.
This will be my challenge for tomorrow, all the way to the top. Got briefing for the hike from my guide before dinner
There are 2 ways to go up, one which is Sembalun track which is much easier and got better scenery and from Senaru, it is more challenging in terms of soil and landscape.
The next day, wake up call is at 6am, bath with crazy cold water, head to breakfast then at 7am starting our journey to crater of Mt.Rinjani. Could not wait to reach the crater for its great lake scenery. Then will stay a night there as will be continuing the journey to the summit at 2am.
Getting excited and feeling energetic as need to finish 7 km that will takes estimated 7 hours to reach crater ring (depending on your stamina).
I feel like I am like the old guy Saruman from Lord of the rings, hitting on a quest to find Sam.
Along the way, met some people, talk chat and laugh as this group are all the way from Surabaya.
Before hiking, please do remember check in yourself at the Forest rangers office to sign in your name for safety & insurance confirmation.
Following my guide 'Dee', only 22 years old and the youngest I heard as a guide is 13 years old.
Never ending mini hills, as walking up and down non stop which need to pass thru at least 8 or 9 hills.
An hour later from my homestay, is to meet my potter at this bridge. He is the one that is responsible for all our food, tent, sleeping bags and water.
Our basic necessity is weight around 20kg.
This is what I mean, mini hills one after another.
There are 3 pos stop in total as this is pos no. 1. A place for you to take a rest. Not that clean but nice enough to take shelter & recover on energy.
Got a request from the local to take selfie with him and this guy is hiking with Japanese Slipper only.
After 45 minutes walk, reach pos.2
Seriously it is not easy as my backpack is only 6 kg, I am already suffering and the guy is with his 20kg. Die!
Reach pos 3 in 50 minutes later where we will stop by here for lunch and chill.
This are the area whereby the explosion from the volcano and the black sand are from lava last round.
This is how my potter cook for us. Super knife cutting skills on the palm without a chopping board.
Everything is just classic, as they gather wood sticks, stones at the side and build fire from wood.
Another potter from another group is more classic, as he does not have the leg to withstand on his cooking utensils, he add on rock which is similiar size to add as a base.
My lunch is Soto Noodle and rice. The portion is so huge that I could not finish and its a great lunch. Pungent in taste and just perfect.
They made their own chilli base, its hot and spicy, too bad I did not take alot worried that will need a huge toilet break after that.
Upon break, met another group of hardcore hikers from Malaysia.
End my lunch with a mini pineapple by myself.
Fear not as all ingredients that they are using are fresh from the farm below which is freshly produce by the villagers down there. What we are eating they pluck fresh form the farm such as meat, veggie, water and others. The villagers told me that those requested meat such as chicken or lamb, they will bring up to prepare along.
This uncle is already 65 years old and super fit.
The most challenging part of the hike is from Pos 3 onwards all the way to Crater that will take another 2-3 hours hike depending on your stamina. The condition from here to crater is all about 70 degree gradient hike. As per compare to pos 1 & 2 it is all mini  hills which is only long distance, estimated about 4-5km.
As climbing higher, visibility is getting very low as its rainy season.
Upon reaching the campsite at the crater ring, I am so sad that it had been non stop raining and visibility is so low. I cant enjoy my afternoon tea with magnificent view of the lake over there. Oh well, setting up our campsite and have to hide inside my tent till the next morning.. There are 6 location in total for this campside
Girls might find this challenging as the facilities up here is consider nil. The potter will dig a hole and place a fabric around it to make it a toilet facilities. There are no place for you to bath up here. What do I do as I did read some article, that wet tissue is a must. I brought 2 pack just nice to clean up myself.
My early dinner.
On the next morning, we start hiking at 2am to the peak. Its very challenging whereby its a sandy terrain. The put a quote "3steps = 2 steps". The reason is that you hike up 3 steps and will fall behind one step.
I nearly gave up on the last section of the volcano as its so tough. Lucky that altitude does not change as much as Mount Kinabalu.
Happy that I took 4 hours to reach the summit and enjoy every single breath taking scenery up here. One overlook at the crater lake and the other one with fantastic view from the sunrise with Bali Volcano and island to be seen as the background shadow.
At the summit here, its extremely cold as in the month of May it had hit 2-5 degree with wind factor. If its in their peak season like June-Aug, the temperature up here can be as low as -10 with wind factor as they are sharing atmosphere with Australia where its winter during that time.
Spend about an 70 minutes up here to enjoy every single bits of it.
this is what I mean on the last stretch to the summit. It seems like never end as the sand here is very soft and keep falling a few steps behind. This is what they mean by 3steps = 2 steps.
Gradient hike all the way up is more like 70 degree.
Do be careful on the way going down as its slippery and if you do not be cautious, you will be like a snowball going all the way down . .
Never thought I would hike all the way here and that's our campsite, as it looks like we are camping right next to the edge of the volcano.
The unique thing which is the inactive huge volcano has given birth to a smaller one inside it. What I was told by my guide Dee that the lake will one day be gone as the active volcano keep spilling lava and soon will cover the whole lake.
Advise future hikers to hike along the lake too as it takes additional day.
While doing your dump, this is the best toilet that you can find by overlooking a great view. 😀
This is what I mean by missing out my great tea time by overlooking this lake in the crater.
Taking the opportunity to enjoy it for my breakfast before heading down.
Look so near yet so far!
This is my heavy breakfast that they have prepare for me. Indeed if you are asking me which is better, Mount Kota Kinabalu or this, I would highly recommending this, as the view here is much better. Both is definitely 2 different terrain.
Super important things to bring for Mount Rinjani:
– Headlamps
– Sun block/lotion, hat/cap, sun glasses
– Spray for muscle/balm
– Insect repellent
– Camera
– Face towel for simple cleanup
– Long trek pants/wind proof – need for hike from crater to summit.
– Windproof Jacket
– 2-3 pcs of shorts &  T-Shirts
– Trek stick/lekki (if do not have, borrow from homestay or ask guide to chop 1 for you)
– Power Bar/ Chocolate
– Suitable walking shoes
– Warm clothing
– extra socks (2-3 extra)
– Panadol/Altitude tablets
– Plasters
– waterproof bag for camera
NOTE:
– Bring Some cash for tipping the guide and porters is recommended. Its about Rp. 50.000/person/day
– Do pack your clothes in a plastic bag, just in case it rains like dog and cat some of my clothing is wet and at crater it can hit very cold. Chances of falling sick is high.