Solaris is indeed an area that is well known for Korean food, As You Like Hong Kong Chicken Pot is one of the latest Chinese cuisine operating in this area. A brand that hail all the way from Hong Kong that operates their first outlet in Malaysia with remaining 5 in Hong Kong. I find that the cuisine is a perfect addition to the area which is lacking off. Something like steamboat but it is not. A Little summary would be a cuisine of a cross over of China Sze Chuan in Hong Kong Style.
As You Like Hong Kong Chicken Pot has some classic interior.
The whisky are for display only.
In Hong Kong, this restaurant is famous among the locals and many celebrities have visited this place too.
For cold platter -Premium Golden Preserved Egg @ RM 18 or Century egg is a must order as love the goey texture and fragrant of the egg. Fully import as the egg yolk there still have 1 transparent layer. @ RM 18
their Herbal tea is pretty interesting. Water Cress with Honey @ RM 16 per jug. 
A few drinks which is imported are like above. Coconut water from Hong Kong is rather interesting too.
As they are new in the area, this is their temporary menu.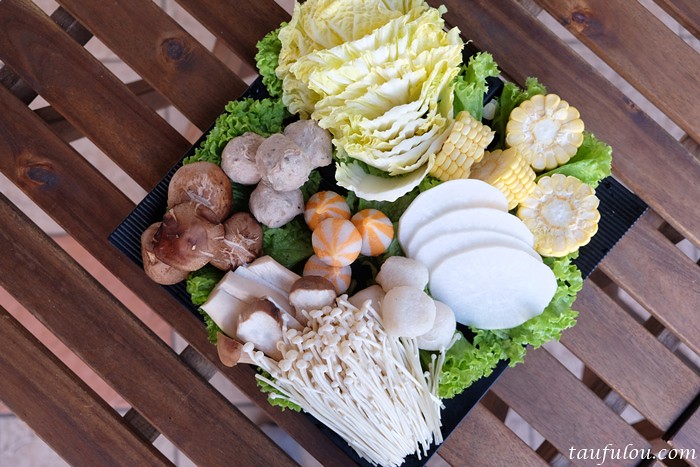 One of the platter
For Hong Kong Pot, this HK Bean Curd Roll is a must order @ RM 24 (L) and Tapioca Starch Noodle @ RM 10
Their Hong Kong Fried Fish Skin @ RM 18 with beer is a perfect combination.
BBQ Lamb Meat @ RM 8 per skewer. (you get to choose on the spiciness level too), Grilled Chicken Cartilage @ RM 4/stick. BBQ luncheon meat is a must order @ RM 6 per stick. 
BBQ Big White Prawn @ RM 22 for 2 sticks 
Grill XL half shell scallop with garlic @ RM 18 each
As for first time we are here we tried 2 types of soup in seperate pot. As You Like Hong Kong Chicken Pot were highly advise for first time in this shop, for Sze Chuan Soup base –  spicy level go for Mild Spicy and Mild Numb. to our suprise, the instant hit of spiciness is there and numb of your mouth is slightly after that. Loving it. Finally found a place with proper Sze Chuan flavour that I like as it is quite similiar to the one I ate in Melbourne. Personal Preference, I would choose Small Spicy Mild Numb as I love my pot to be slightly more spicy. Soup is aromatic and fragrant to my liking.
For their Classic Authentic Chicken Pot is filled with Half Chicken and their special ingredient to make it slightly herby. Good for those who can take spicy sze chuan yet can enjoy something aromatic and nice. Soup is refillable.
If you love instant noodle as your ending of your pot, then can try out their imported Nissin Noodle from Hong Kong which consider quite a premium product in that region as it is manufacture there.
This is definitely one of a place I do not mind to come back for another round of food. However:
remark: for the soup base if you add another round of soup, it might taste slightly off and it is quite pricey too if you order alot. 
**NON-Halal
Location:
香港隨變烧烤麻辣鸡煲
As You Like Hong Kong HotPot
13, Jalan Solaris 2,
Mont Kiara 50480 KL.
Operating Hours: Daily – 6pm – 3am