One of the most spectacular wine and food events in the city is taking place in the whole September 2018, as Dionysus Asia will bring you 9 Vine Wine Festival, a non-stop wine, dine, music and engaging session to get to know the wines that you love.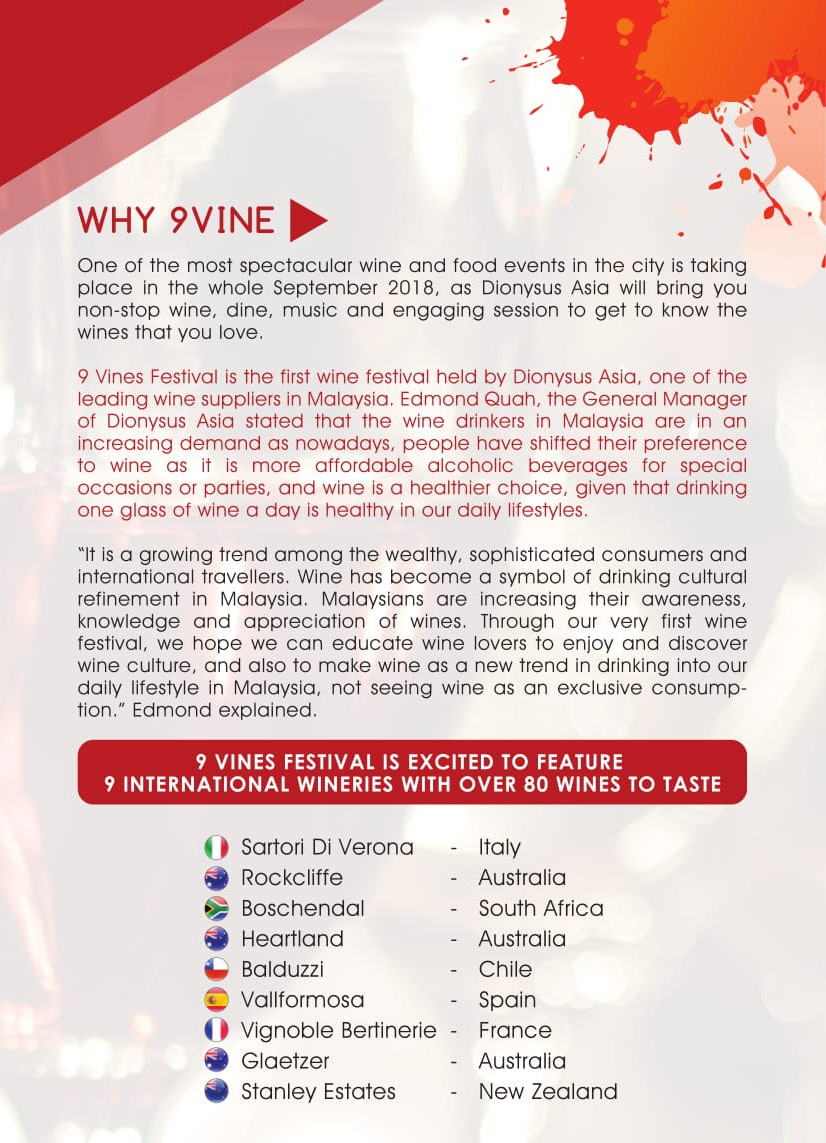 The event tear down into 3 segment :
1) 'WINE'NESDAY – WINE & MUSIC
free flow wine and music entertainment, happening every Wednesday evening of the month of Sept 2018.
2) 'WINE'LICIOUS (Gourmet Food and Wine Pairing) at all 4 restaurants.
Sat, 29 Sept 2018, 7:30- 10:30pm
and the segment I am aming for is:
3) The Grand WINE MARATHON FINALE

9 Vines Festival is the first wine festival held by Dionysus Asia, one of the leading wine suppliers in Malaysia. Edmond Quah, the General Manager of Dionysus Asia stated that the wine drinkers in Malaysia are in an increasing demand as nowadays, people have shifted their preference to wine as it is more affordable alcoholic beverages for special occasions or parties, and wine is a healthier choice, given that drinking one glass of wine a day is healthy in our daily lifestyles.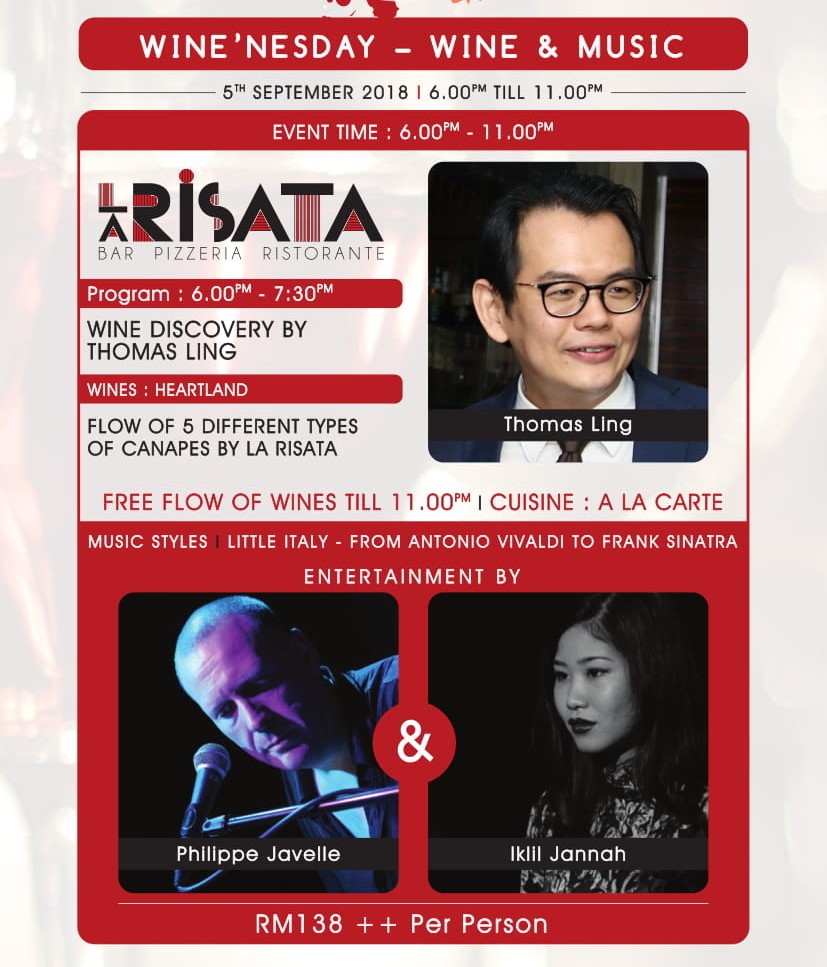 "It is a growing trend among the wealthy, sophisticated consumers and international travelers. Wine has become a symbol of drinking cultural refinement in Malaysia. Malaysians are increasing their awareness, knowledge and appreciation of wines. Through our very first wine festival, we hope we can educate wine lovers to enjoy and discover wine culture, and also to make wine as a new trend in drinking into our daily lifestyle in Malaysia, not seeing wine as an exclusive consumption." Edmond explained.
9 VINES FESTIVAL IS EXCITED TO FEATURE 9 INTERNATIONAL WINERIES WITH OVER 80 WINES TO TASTE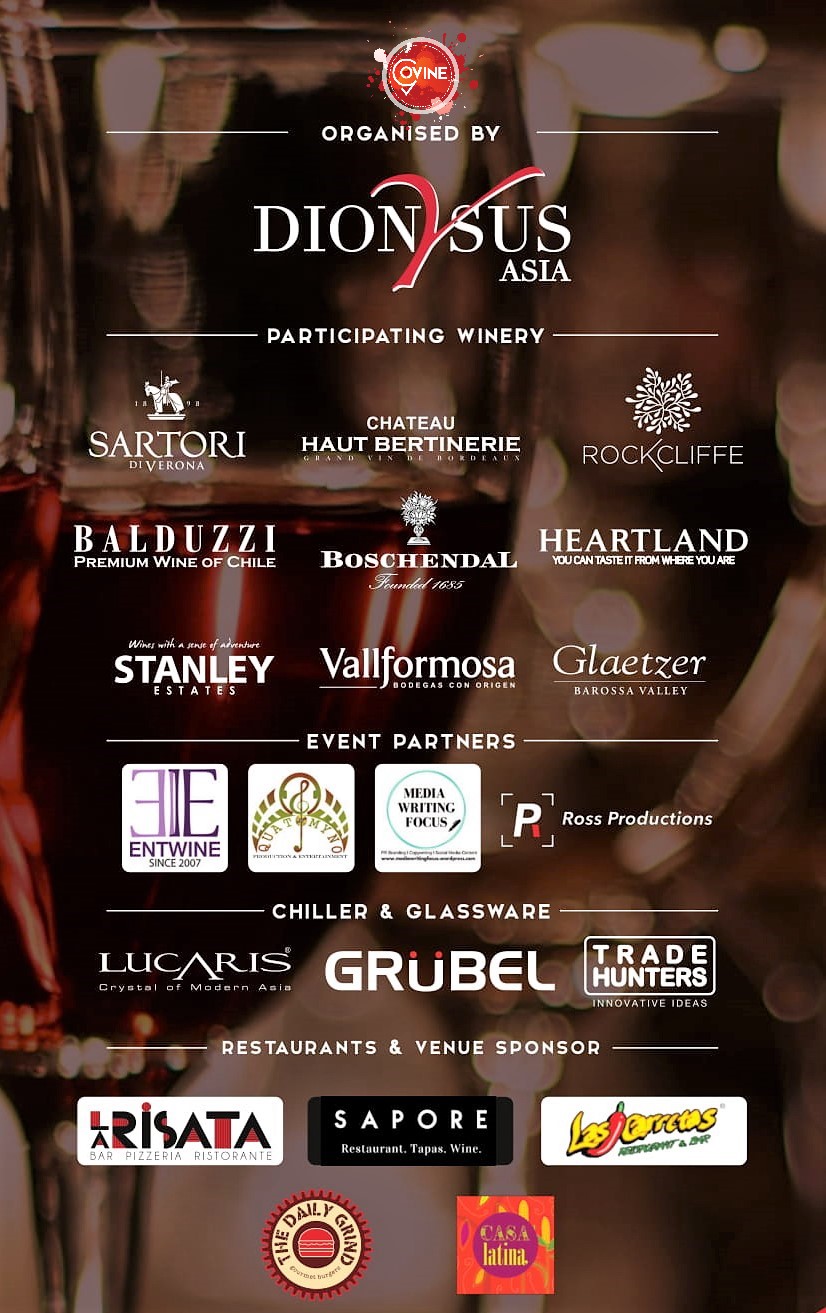 Those wine lovers, this might be the event that you can hit on and high chances, I will be at the Wine Marathon. Amplify your wine tasting experience for RM 118nett for 80 types of wine is only RM 1.50 per sip ONLY. 
For more info, check out full details at: www.dionysusasia.com/blog/9-vines-festival
9Vines is bringing you entertaining and sophisticated evenings of food, music and wine throughout the whole month of September 2018 in the heart of Ampang, KL. See you at the event.
For RSVP and booking, please contact