I got all excited when I read an article last year that there will be a Michelin star chef will be opening a restaurant in KL. Constantly for such restaurant we are only able to enjoy it at over oversea, however with the news breaking in and it had been confirm that Babe Japas Fun Dining is offering Michelin-Starred dining that is lead by Chef Jeff Ramsey's that will be Malaysia first restaurant by a Michelin-Starred Chef. The restaurant opens its door to public since November 2015 and is located at the iconic pool deck of BE Urban in Clearwater building at Damansara Heights that have a panoramic view over iconic KL city skyline that overlook both Petronas Twin Towers and KL Tower.
Babe would not be your usual fine dining restaurant as there is a slight twist in it where a fun and sensory dining would be where it focuses on 'fun dining' experience, serving up Japanese-influenced tapas, or 'Japas' (Modern Japanese Tapas), as Ramsey himself calls it.
Right after the door lift open, you are greeted by the front desk staff and to check on your reservation. Then we got hit on our first service disappointment as after checking on our name on the list, we were ask to walk with the staff and lack of communication, we were left stranded in the middle of the dining area without any guidance and the lady at the counter jump into serving couple behind us where they were instantly ushered to their seating accordingly. Then we have to ask again on our location of our seats.
The restaurant is done up nicely, filled with transparent chairs, velvet red carpet where it is divided into two sections, indoor or outdoor where the two table and chairs is different.
I am happy with my seating arrangement for the night as our table is the first table that is facing the great KL skyline and handed over drinks menu.
In the process, of choosing our drinks, we were then brief by one of the waiter on the 15  course menu at RM 200++ per head that we had which originally booked and do we intend to upgrade it to RM300++ per head. From the first waiter that told us about it, we were not keen on upgrading where he is lack of menu knowledge. So we just place our order for drinks.
5 minutes later, then came by another waiter to asked us on our drinks placement and also promote on the RM 300++ upgrade and from the way he explains with the differences of 5 different ingredients where ingredients used is more premium, we then happy upgraded to the RM 300++ per head menu.
On that night we upgraded our meals to 15-course, Omakase-style dinner at RM300++ per pax
When I look down at my cutlery, I got a shocked moment where a Michelin Star serving meals is pair with a cheap wooden night market chopsticks? Oh, well at least they could pair with a proper Japanese chopsticks.
Oh well, ignore it and enjoy my wine along with the view while waiting for my food.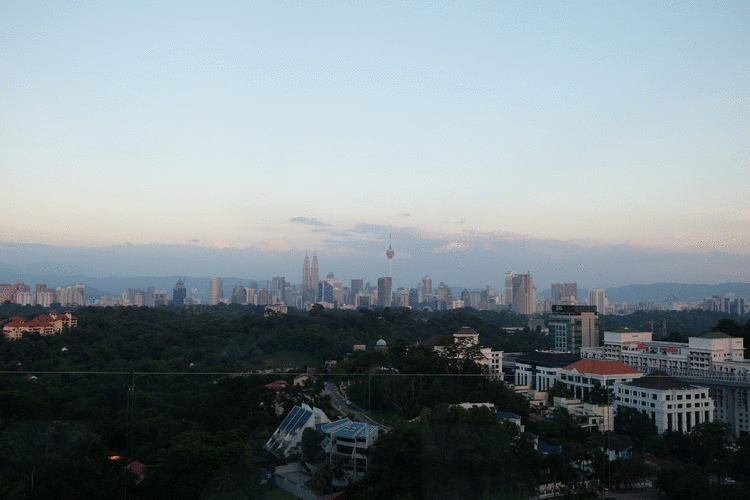 First 3 course arrived and then were just place in front of us and the waiter walked off. Then I have to call another waiter to ask, are they going to explain the dish that we are dipping in.
Dish.No. 1.
This is the first upgrade dish that is different from the RM 200 is the oyster. Flavours are amazing with the combination there is sweetness from apple if I am not mistaken and a few other elements that pairs very well with the oyster yet the freshness of oyster still can be tasted.
Second is this Japanese Clam Chowder that is filled with warm potato mousse crowned with smoked coconut strips, drizzled with chive oil, laced with clams & onion marmalade. Mousse is so fluffy, airy , soft, great in flavours and are then greeted with a surprise element where the pearl of clamp chowder just pop. A great solid taste combination. Amazing.
Third is Curry Buns where The "buns" are actually made out of meringues! Serve as a version like Macaron where the shells is crunchy and airy where the center is filled with Japanese pulled chicken curry.
Moments after clearing of first set, we were then showed with their second set that filled with next three combinations.
Fourth is another difference of upgrade where the seaurchin where serve with shredded apple slices, green tea powder, foam compote.
Fifth dish is when I was told that this is a Caesar Salad, I am totally impress with the technique that the chef has came out with where its creativity is on another whole new level. Frozen spheres of of romaine lettuce blended with Caesar dressing, sprinkled with parmesan on a cushion of crouton dust and a piece of mini bacon if I got it correctly.  This have to be taken one big bite and bite the frozen spheres carefully where the juice in it will burst into your mouth that create a whole new sensation and flavours in your mouth. This is  is one of the best dish for their second set series.
Sixth is  their 1000 Year Old Smoked Cypress. It is said that when you release the smoke, it's like releasing a 100 year old spirit. I believe this is another upgrade where they use different fish. I guess this dish have to be eaten fast where the smokiness in it will evaporate fast, as when I am done with the photoshoot, there are not much smoke left.
Seventh is Tai Chazuke. Konbu-marinated sea bream with with toasted rice puffs & a burst of liquid sour plum laced with shiso & tea. A great combination of flavours where you can taste every single layer of it, with rice puff, mild sour plum and tea.
I could not find info on this Eight dish, where the fish are being cut to paper thin.
Ninth is Niku Jaga. This is presented nicely in a wooden traditional box where it is filled with meat, potatoes and onion stewed in sweetened soy sauce. This a modern version of sushi where sushi is being replace with crunchy potato croquettes  and inside is filled with potato mousse.
Tenth is Samurai Sliced Manga Crab
The Soft-shell crab is presented in a very unique way where the looks of it been sliced into half with a samurai sword, with its green guts oozing out: the sauce is made out of coriander vinaigrette with turmeric mayo. It's served on a plate artistically printed with edible charcoal mayo and with the Japanese wording in the middle means slicing in Japanese.
Was told the way to eat this dish is by using your hands, turn the base of the soft shell crab by dipping the sauce in circular motion only then eat it.
Elevent is Short Ribs braised with Red Wine and Soy Sauce
Was told that it had been braised for 12 hours that is so tender and soft that will eventually break just by using chopsticks. Love the base of sweet potato puree that pairs very well with the short ribs that I did not leave any single sauce left on the plate.
Twelve is Virtual Truffle Steak
This is a very playful dish where you will be handed a tissue of truffle small and is to smell it first before you dip into your steak. This is to make your  mind to believe and paint the flavour in your mind that alternatively create the imaginary taste to your taste bad that you actually taste truffle in your steak. Steak is cook to perfection and best to smell the truffle tissue follow by eating a bite on steak with the salt and seasoned ingredients at the side.
Thirteen is the signature highlights that everyone is talking about. Nitro Puffs
This is how the Dragon's Breath is created by dipping one puff into the liquid nitrogen for eight seconds then pop them into your mouth, where you'll have an instant cold breath exhaling from the nostrils and mouth that create a look like you have a dragon's breath.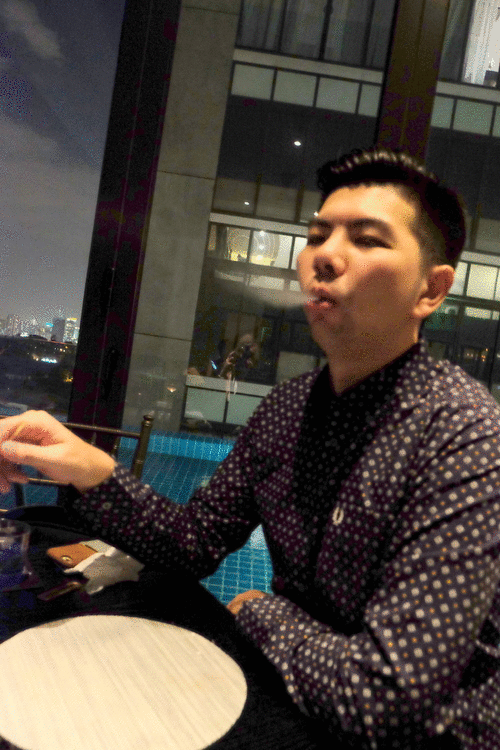 Fourteen is Ice Cream / Sorbet
We chose their Smoked Milk Ice Cream & Pineapple Miso. Very inresting flavors combination spoonful is packed with flavours where Pinapple Miso caught our attention the most.
Last dish is Petit Fours
This dish play with your mind again as Super fine Strawberry wrappers with Strawberry scent, Popping Chocolate & butterscotch sweets with a Milk scent paper at the side. To eat it, smell on the milk strawberry scent paper then pop in the super thin paper top that creates an illusion for flavours. The nicely done up chocolate will create a popping sensation inside your mouth like you are eating a popping candy. Follow by Butterscotch Sweets where you just pop the whole unit inside your mouth as the wrapper is edible.
I am totally mesmerize by the dish that Chef Jeff Ramsey have crafted for the whole experience where we enjoyed  every single elements of taste from all the dishes. Very pleasurable.
When this is a restaurant that lead by a Michelin Star chef, my expectation is build differently, no doubt that their food experience is amazing where there will be alot of improvement to be done on their service. First if you are seated outside, the waiter is lack of attentive also lack of explanation of food where my food were serve twice without explanation and walked off. A few times my cutlery did not serve along too where have to wait quite a while as like when I was serve on the plate of my birthday plate, without spoon that when the spoon came after 8 minutes later, I can only salvage half the ice cream where the others melted away.
Overall, this is a much better food experience that I enjoy where the first 6 dish is to build up your palate when where the mains are serve with more heavy taste and end playfully. If to compare my food experience with Aziamendi 88 at MO, this is much better for me.
If you have slightly more budget for a great meal, this is definitely a place to enjoy. I think it is good enough just to enjoy the RM200++ per pax menu. You can read it thru Christine's Blog for the differences.
Remark: Best advise to make reservation ahead as this restaurant is gaining its popularity to many foodies out there. 
*Pork Free
-= KA CHING =-
Food rating 8/10 , great food experience and Recommended! -Stamped-
-WARNING –This is based on my individual taste. Try it at your own risk-
Location:
Babe: Japas Fun Dining
11th Floor, Work @ Clearwater,
Changkat Semantan, Damansara Heights,
Kuala Lumpur.
Opening hours: Tuesday-Sunday for dinner
Tel: +603 2095 8599