Nothing much to do during Chinese New Year, so did some hunting to welcome back for bubble tea series. Instead of cafe hopping, we did Bubble tea shop hopping. CHATTO 茶社 Handcrafted Tea Bar Georgetown  is one of the latest outlet to be added into the list for bubble tea in Penang. Located in the edge of heritage zone, is one of the place for you to check them out before you drove off for next food hunting series.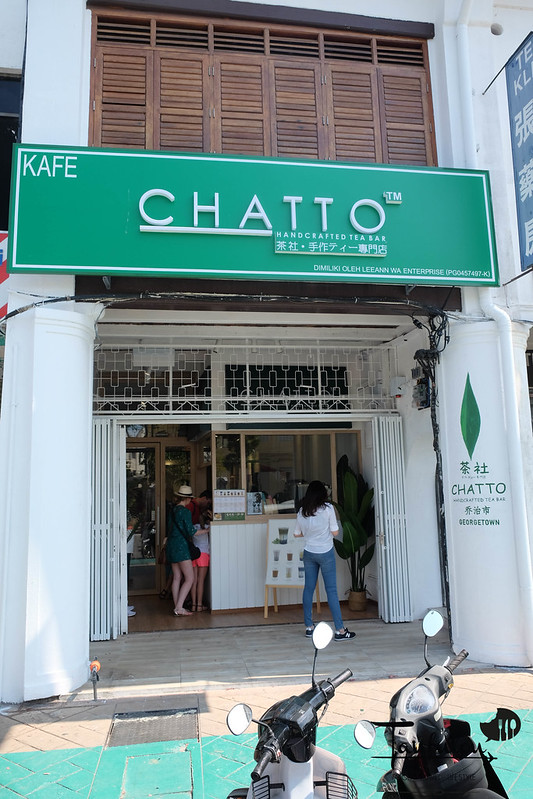 Believe these would be their signature series.
interesting minimalist design. Wooden and white which is always the perfect match. If downstairs is full, then you can head upstairs for more seatings.
One bad thing about the signage is that – handcrafted tea bar which crafted an expectation in my head. But looking at their prep for the drinks we order, I am not  too sure what is called handcrafted tea bar. Looks like normal Tealife or any other brands is preparing.
The most recent trend is this Brown Sugar Pearl Latte @ RM 10.90. A simple drink that is filled with milk and the secret ingredient will be the brown sugar and pearl. To enhance the whole drinking experience. I find the drink so so only. For the price of that compare to others starting at RM 13 onwards, can close one eye for this. Not too sure if other places got good brown sugar pearl but The alley is pretty good.
My friend had Matcha Pearl Latte @ RM 10.90. Nicely presented in 3 tier of colours. Tasted quite flat and only finish half cup each. I am sure there are other flavours that you guys like. Do share share in the comment section.
-= Ka Ching =-
Food Rating 6/10, so so only!!!~-Stamped-
–Warning– This is based on my individual taste. Try it at your own risk-
Location:
CHATTO 茶社
143, Lebuh Carnarvon, George Town,
10100 Penang
Operating Hours: 11.30am – 11.30pm
Tel: 04-251 9736