Usually every year, I would not miss out to head back to Penang to satisfy on my durian cravings, as this year with my tight schedule I was lucky to head back to Penang for a short trip and manage to squeeze my time to visit one of the farm. One of a new discovery is FCS duriam orchard or farm that located at Balik Pulau. Rather one of a newer player that now open their farm for public where previously the owner just supply to seller at market at Balik Pulau.
*right now, Penang is moving into end of season which might be finishing around mid July.
Locating this place is rather tricky as you are heading from Paya Terubong towards Balik Pulau, as you are heading downhill you will then see a small TNB box where a little road opening, that is where you turn into this small road as shown above.  You will need to drive all the way into the jungle from this single lane for about 5 minutes. If there are car coming by the other direction, either one of you might have to reverse till see an open space.
Right after 3 minutes drive into the jungle, you will be greeted with signage along the way till you see this master board.
This is the little hut that serve farm fresh durian to you.
If you are lucky on the day, there are some other fruits which are available. On that day which is on sale is papaya.
Usual Classic way of Opening a durian is with a "Choy Tou" and where technology evolves, hence way of opening durian also evolve by a customize wooden durian opener that will just assist you in opening it for less than 30 seconds, just by placing it correctly.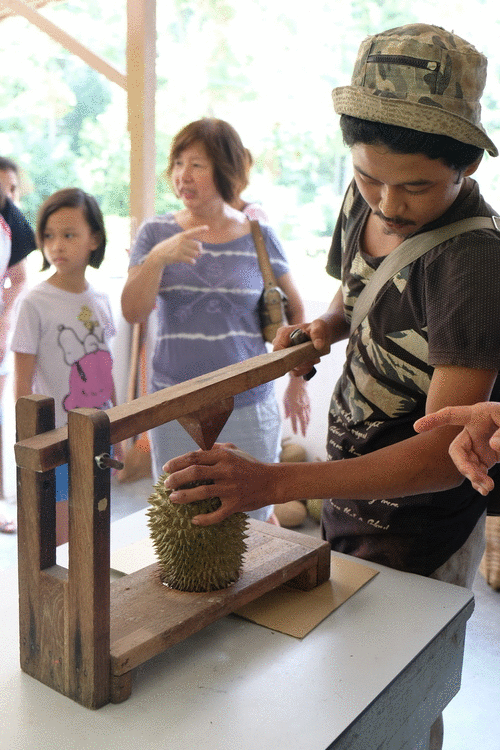 I was enjoying my durian all the way as on that day, the drop of durian were really good ones, ranging from breed such as : Black Chin Chin, Udang Merah, Green thorn (which is my favourite), Ang Jin, No Name (which only one tree in the whole orchard) 101 special and others.
Both of me and my friend had about 4.5 kg good durians that cost us only about RM 90. Indeed Cravings is satisfied.
To visit this farm, it is advise to make a pre booking with the owner with details below so that they can arrange better quality durians (depending on the fall for the night/day).
Check out their FB for more details: FCS durian Ochard 
Tel: 017-378 0205