I have been always in support for kids empowerment especially to needy kids. In support with Havan Clothing as Havan Clothing hopes to inspire adults to stay connected with the children. By infusing their genuine artwork with our daily lives, adults can learn to appreciate and recognize the value of a child's creation.
Lead by both Hany and Ivan whom loves connecting with children with Hany, who is a child counselor by profession and found out the importance of EQ where children is lacking off. She saw the positive change of EQ shown by the kids after volunteering at Hiichiikok Foundation Shelter Home at Sentul to teach the kids EQ lessons. From there, she decided to continue to pursue.
Ivan whom is the other half, an MBA graduate, decided to do support to make his wife's passion sustainable. Aside from sustainability, sufficient funds are also needed to spread EQ lessons to more children. Connecting adults with children by appreciating their work, hence. He came up with the idea of social enterprise and thus, Havan Clothing was born. I find this meaningful as it empower both women and kids.
When the parcel received, I am quite surprise with both material for delivery boxes and t-shirt quality. It sure does not look like RM 49 .
Love the simple design in support for the kids and the fabric that they are using is pretty spot on. Comfy and a bit stretchy. Then only to found out it was made of 95% cotton and 5% flexible spandex. The additional flexible spandex material is just top of the cream that  make it more like a bit silky material.
Quite cooling and not easily sweat as I wore it out for 2 occasions, normal wear in the malls and also for my short stay vacation at the beach.
How Havan Clothing Works
Shelter-home kids draw the art during EQ lessons
Havan Clothing turns them into clothing designs
When you buy clothing from them, part of the proceeds will go to fund kid's learning programs and at the same time their creativity were being recognized
By infusing their genuine artwork with our daily lives, adults can learn to appreciate and recognize the value of a child's creation
Havan Clothing is helping to transform a child's creative art by printing their artwork onto fashionable pocket-tees with optimal quality and cutting. There's a story behind every design.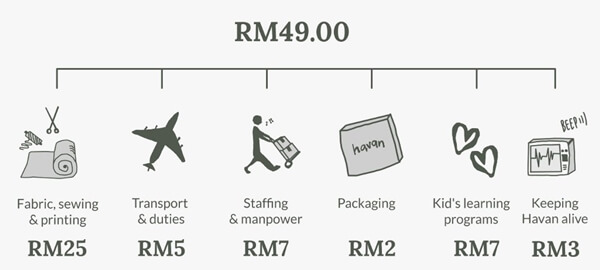 Been in support for most local street designer and this is totally different, in support for children cause. All their unique pocket-tees priced at only RM 49 each. Free delivery will be provided with purchase of minimum 2 pieces.
My first delivery I got was L size and found out to fit for my tummy and have to get another order of XL.  Do note that their cutting is a little bit small and do measure first before purchase. My usual clothes are all in Size L. those of you gym junkie, you might love this material as it is fitting, with shorter sleeves and fit with stretchable material.
If you're interested in supporting them, head on to https://www.havanclothing.com/. One of a Malaysia Clothes seller.