If you do every visit Kuala Lumpur as a tourist, then Jalan Alor is one of the most famous street food area that foreigners or travelers will flock into this street. Well know for its bustling night life of variety of street food choices. Now I have break down into a few part where if you do visit at night or in for breakfast/lunch, where will be a better place to eat. Here are my  Top 7 food must eat at Jalan Alor.
At night, you will be seeing a totally different scene if you were to walk this street in the afternoon. Night is pack with variety of different types of stir fried dishes ranging from seafood, Thai food, Vietnamese food and Chinese variety. There are also other little kiosk that park nearby to add in some choices if you do just like to stroll down the street.
I was told that Sai Woo offer pretty decent stir fried seafood dishes. (to be basically the whole street is the same)
BBQ fried Lok lok (becarefull on such individual stall that offers seafood. If you are caught unaware of half drunk then it can be sky rocket.)
At Night:
1. Wong ah Wah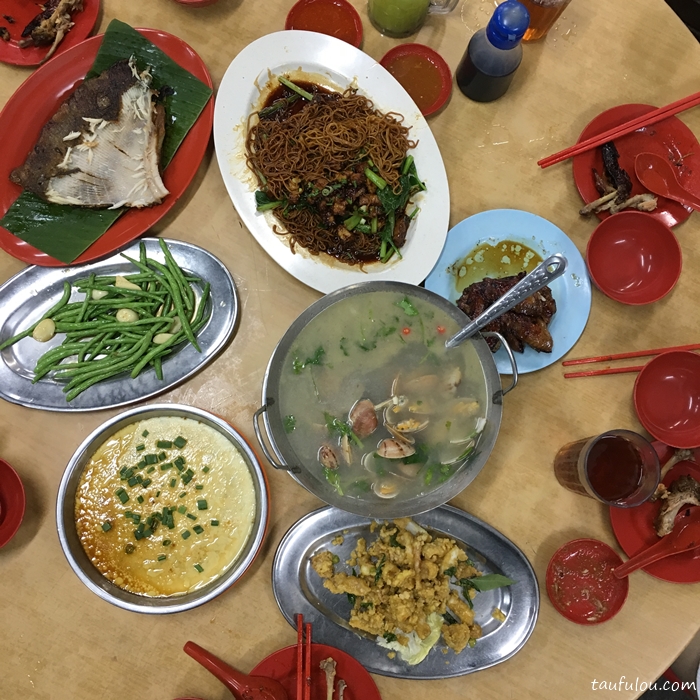 One of the oldest and well know stir fried places which is Wong Ah Wah and 2 dishes where you should order. Their all time famous Chicken Wingz and also their Roast Pork Dark noodle.
Location:
Wong ah Wah
1, Jalan Alor, 50200 Kuala Lumpur, Kuala Lumpur,
Phone:+60 3-2144 2463
Operating Hours: 5pm – 4am
(Closed alternative Mondays)
2. Best orignal Sze Chuan Food
If you love original China Food hail all the way from Sze Chuan province then you must not miss Kedai Makanan Dan Minuman TKS. Sounds weird right where it is so local name but the cook awesome authentic stir fried Sze Chuan food. (do tell them you want original flavour where it is much spicier, where now they have tone down the spiciness to cater to our local taste bud)
Location:
Kedai Minuman & Makanan TKS
Jalan Alor (Opposite Wong Ah Wah Kopitiam)
Operating Hours: 5pm – 2am
Morning/Afternoon
Little did I know that in the afternoon, food offerings at Jalan Alor is totally different and here are some to share.
3. Pin Chen Hainanese Chicken Rice
Pin Chen Hainanese Chicken Rice is rated as one of the best chicken rice in the street to hunt for. fragrant rice till sauces and silky smooth chicken skin is something for you to spend and try.
Location:
Jalan Alor,KL
(Next to Sangkaya Ice Cream)
Operation Hours: 11am – 3pm (while stock last)
4. Uncle Lim Pan Mee
Under same shop, they house another vendor whicih is Uncle Lim Pan mee which is well know for its broth of it.
Location:
Jalan Alor,KL
(Next to Sangkaya Ice Cream)
Operation Hours: 11am – 3pm (while stock last)
5. Gou lou
Apparently Gou Lou is quite well know to a few of my friends that they serve instant cook Fish Head noodle and their TomYum is worth hunting.
Restaurant Gou Lou
37, Jalan Alor,
50200 Kuala Lumpur
Tel: 012-665 4095
Operating Hours: 7 am to 4 pm, closed on Wednesday
6. Corner Alor Curry Mee
When I ask my friend have they dine this store before and some of them answer confidently where Corner Alor Curry Mee had been operating for ages. It is a well know stall nearly to all the folks that live nearby.
Location:
亚罗街咖喱面 Alor Corner Curry Noodle
Jalan Alor, Bukit Bintang,
50200 Kuala Lumpur.
Operating Hours : 2pm – 7pm
7. Beh Brothers:
Beh brothers kopitiam offers variety of food from just 2 stalls. One which is Indonesian economy rice and the other very well know dish from the store infront is this Sisters Drunken Noodle, other item such as pork noodle or dry version is available.
Operating Hours: 9am – 4pm
(Closed alternative Mondays)
______
Besides that, you can do your online shopping at Shopee
Location:
Jalan Alor, KL